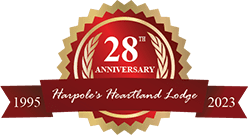 Polaris Adventures Press Release
PRESS RELEASE
For Immediate Release
Harpole's Heartland Lodge receives Polaris Adventures seal of endorsement as Certified Outfitter.
Nebo, IL (June 1, 2021)— Harpole's Heartland Lodge, located in Pike County, Illinois, has been recognized by Polaris Adventures as a Certified Outfitter in their fast-growing nationwide rental program. As the first-ever network of ride and drive experiences, Polaris Adventures brings together select rental locations to provide safe, memorable, year-round adventures in state-of-the-art Polaris vehicles.
Outfitters, like Heartland Lodge, are part of this exclusive network of local adventure experts and are accepted into the Polaris Adventures program based on experience, adherence to best practices, high scores in customer satisfaction as well as a commitment to safety and ethics.
"Polaris Adventures Certified Outfitters not only meet our program standards, but they uphold all premium practices and processes required to offer a truly unforgettable customer experience," Gray Rentz said, Polaris Adventures director. "Heartland Lodge is a perfect example of program excellence."
Polaris Adventures Outfitters receive a new fleet of Polaris vehicles every year, equipped with the latest mapping technology to encourage proper trail etiquette. Outfitters are held to the highest standards to preserve ride destinations and communities for generations to come.
"We are pleased to be selected as a certified outfitter as we continue striving to offer excellent service and a premium experience to every guest. The Polaris Adventures Outfitter program was a natural fit for our family-friendly resort. Their top-of-line machines ensure our guest a quality riding experience while riding our beautiful 1,200 acre ATV/UTV park." Gary Harpole said, Heartland's owner.
About Harpole's Heartland Lodge:
Heartland Lodge is located in the scenic rolling hills of southern Pike County, Illinois. Our resort offers horseback trail riding, ATV/UTV riding on 1,200 acres and 60+ miles of trails, UTV half and full day rentals, sporting clays course, multiple fishing ponds, premium upland/ deer/ turkey/ waterfowl hunting packages and several other activities! Guest are welcome to bring their own side by side, dirt bike or ATV as well! Heartland has individual suites, private luxury cabins and multiple lodges with several rooms for larger groups. Bring the entire family and friends, host your wedding or corporate retreat, family reunions and more! Our lodge is the only Orvis and Shooting Sportsman endorsed lodge in the state of Illinois! Visit HeartlandLodge.com or give us a call at 217-734-2526 for more information!
For More Information On Renting A Polaris Side By Side, Click Here >>
ATV/ UTV Riding Park Information >>
Full List of Activities and Amenities >>
Corporate Retreats/ Conference Center Information >>
Whitetail, Upland, Waterfowl and Turkey Hunting Packages >>
About Polaris Adventures:
Polaris Adventures brings together a select network of Outfitters to provide premium ride and drive experiences at unique destinations nationwide. Creating safe, memorable, year-round adventures for all skill levels, Polaris Adventures offers worry free half and full-day options for couples, families and adventure groups in state-of-the-art Polaris vehicles.
Last Updated: June 1st, 2021