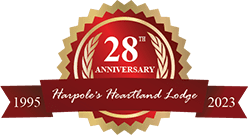 Allen's October Blog-Hunting Early Season Whitetails
The deer hunting season is well underway here at Heartland Lodge.  Despite heat and high winds, shooter deer opportunities have been numerous.  The less than ideal weather conditions have reminded us to pay close attention to the little things that are fundamental to harvesting mature trophy whitetail.
High swirling winds have plagued our hunting in the past couple of weeks during our early season whitetail hunts, making scent control especially important.  For the guides this has meant finding alternate routes into tree stands, checking wind direction frequently before going out, and has added the challenge of being quick to select the perfect stand for that day's wind on the morning of the hunt.  Pre-season scouting and a detailed knowledge of each tract of land has aided tremendously in overcoming the obstacle of hunting in windy conditions.    For the hunter, scent elimination has been the key to success.  Scent killing spray, cover scents, and odor prevention measures (such as getting dressed outdoors) are all tactics that have been used with great success in early season whitetail hunts.
Heat is a factor that is hard to manipulate to the hunter's advantage.  It is well known in the whitetail world that deer movement in extreme heat is very slow, not to mention can be miserable for an overdressed hunter who is sweating on stands with nothing to take his mind off of the beating sun.  Here in Pike County, along with much of the Midwest, a hot dry summer has inhibited forage growth and dried up small bodies of water.  If you just look at the surface, these conditions can be a hunter's nightmare, but a deeper look can reveal the secret to finding and patterning hot weather bucks.  Deer, like people, like to be comfortable.  When I get hot I try to find shade, move as little as possible, and have plenty of water nearby.  By hunting water holes in the timber near bedding areas, we have been able to get within range of mature bucks.  In fact, this was the tactic that led to Heartland hunter Jeff Sposito bagging his first whitetail buck, a 137 inch 8 point!
The 2011 deer season is off to a tremendous start and with a break in the weather coming things look to get even better.  I hope you all have very successful seasons in the woods this year.  Don't let adverse conditions get you down, and remember that imperfect weather doesn't mean you can't go out and have a perfect hunt.  Safe hunting!
Allen Ballinger
HarpolesHeartlandLodge@gmail.com
(217) 734-2526
Main Whitetail Deer Hunting Page.
Last Updated: October 16th, 2011