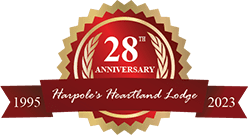 2023 Upland Season Recap
I hope you are doing well and enjoying this beautiful spring weather!
We are wrapping up another phenomenal upland season. Our fall consisted of mostly nice weather with little precipitation until later in Oct/ Nov. We had a great hatch last summer and were able to put our clients on several wild coveys of hard-flying quail and pheasants throughout the season. Our winter was very mild with only a few snow squalls which created several enjoyable winter hunts. One of our most popular options during the holidays is our Family Upland Hunt Package. It's always great to see friends and family enjoying the holidays together and creating lasting memories that will be cherished for years to come. This last month has been near perfect, with several sunny days and little wind. We've had a few of our hunters enjoy the beautiful spring weather to partake in other activities at the lodge as well! Sporting clays, UTV rentals, shed hunting and hiking just to name a few.
---
We have consistently grown the upland division through new farms, professional guidesmanship and dogwork. Many of our guides have started to implement flushing dogs along with their pointers. Our hunters really enjoy the bond between the dogs and their guides and how they work near flawlessly in the field. One of the many reasons we have a phenomenal return rate for our guests.


I am already looking forward to next fall and the exciting new events we will be offering such as the Girl's Upland Hunt Weekend! As soon as the fields start to dry out, we'll be prepping our food plots for planting and continue to conduct controlled burns. The summer will be spent training dogs and maintaining our food plots and upland habitat.
If you would like to reserve an upland hunt for this fall, please reach out to me with any questions you may have about how our hunt packages. Call me at 217-734-2526 or reply to this E-Mail to inquire.
I want to thank all of our guest that hunted with us last year, I look forward to seeing you this fall.
-Gary Harpole
More information on our guided pheasant hunting trips/ vacations >>
Ready to book your next All-Inclusive Upland Hunt? Give us a call at 217-734-2526 or E-mail Gary@HeartlandLodge.com for more details.
Last Updated: April 14th, 2023