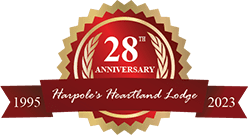 Waterfowl Hunting Q&A
Are gun rentals available?
Yes! We have 12 and 20 gauge over and under and semi automatic shotguns available to rent.
Can I hunt with my own dogs?
Yes! We only ask you be in control of your dog at all times.
Can we book an entire lodge or cabin for our group?
Yes, based on availability cabin or lodge buy outs can be booked for larger groups.
Can we check out your place during the non-hunting months?
Yes. As a courtesy we ask that you call ahead and arrangements can be made to tour the property.
How big of a group can I bring?
We can take 14 hunters at a time.
6 in the big pit, 4 in each of the other two club pits.
Is ammunition available at the lodge?
Yes! We have steel and lead shot available for waterfowl and upland hunting in the pro shop!
What are your season dates?
Duck season runs historically from the end of October to the middle of December. It has been a 60 day season.
Canada goose season will continue til December 31st.
Snow goose Season will run from Feb 1st til March 31st.
How many boxes of shells do I need for duck hunting?
This depends on how well the ducks are flying and how good of a shot you are. We recommend 1-2 boxes of shells per half day. When hunting multiple days we recommend starting out with 2 boxes of shells and purchasing additional shells from our pro shop as needed.
What size shot is best for ducks and geese?
We recommend steel shot size no.2, 3 inch shells for ducks, and steel shot size no. BBs, 3 inch shells for geese
What species of waterfowl will you see?
Ducks: teal, gadwall, shovelers, pintails and wood ducks early in the fall. Mallards and Gadwall later in the season.
Geese: canadas, specklebellies and snow geese through out the fall and winter. Snow geese in the spring season.
What type of clothing do we need to bring?
Its always best to over dress in any hunting situation. We encourage our guest to bring gloves, warm hats, coats and boots. Waders are a great suggestion but not required. Rain gear is always a great idea if the forecast calls for any type of moisture.
What type of habitat will we be hunting?
During the duck season we will be hunting in flooded corn fields. There are heated pits in the middle of the fields that are accessed by boat or ATV.

During the goose season we will be hunting in a dry field with a pit in the middle that can be accessed by ATV.
What type of hunting license will I need?
To hunt waterfowl during the regular fall season you will need to purchase an Illinois Small Game Hunting License, State Waterfowl stamp, Federal Waterfowl stamp and HIP certification.

During the Spring Conservation season for Snow Geese you will need the Illinois Small Game Hunting License, State Waterfowl stamp, and HIP certification.
When is the best time to come?
Our duck hunting is best at the peak fall migration which is usually mid November to Mid December.

Canada Goose hunting is good anytime later in the fall and in the winter. Most birds are migrating from December to January.

During our spring conservation season for snow geese the peak migration historically is late February to mid March.
Where does the hunting take place?
We hunt over 300 acres of flooded corn fields and dry winter wheat fields at our Wing Shooting Manager's private farm. The farm is located right next to the Illinois river and just miles away from the Mississippi river. It is a 25 minute drive from the lodge along the scenic river roadway.