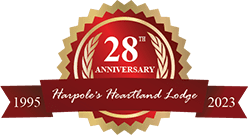 Illinois Meeting & Conference Facility
---
If you are looking for a fully equipped business meeting and conference facility in a unique and spectacular location, you have come to the right place! Harpole's Heartland Lodge & Resort conference center specializes in hosting retreats for all types of groups from corporate groups to church groups and more. Our business meeting space and conference facilities are equipped with all the essentials that you will need for your meetings, presentations and gatherings. The location in Pike County, Illinois makes Heartland Lodge convenient to the St. Louis, Missouri metropolitan area and an easy drive from Chicago, so it is ideal for groups coming from these areas. The lodge is secluded, scenic and remote which makes it a unique conference venue. Our resort sits on the bluffs of the Mississippi River overlooking the scenic river valley and the Missouri hills providing a breathtaking backdrop for your next conference, meeting or retreat.
Meeting & Conference Facility Equipment
Our Meeting & Conference Facility is fully equipped with the following:
1500 sq. ft. Conference Area – This unique setting for your next conference can be arranged for your specific needs. Forty ergonomic chairs and tables can be arranged exactly how you would like. If you need more seating, approximately 100 chairs can be set up theater style. This conference room overlooks the beautiful scenery that surrounds Heartland Lodge, including bird feeders and other wildlife right outside the windows. The view is priceless.
Wireless Internet Access – Two completely independent high speed wireless connections.
LED Projector
Telephone for Conference Calls.
Fax Machines
Copy Machines
Easels, Projectors & White Boards
Snacks & Refreshments
Boardroom Facilities
Separate Boardroom with seating for 16 people – This boardroom or break out room will be one that you will enjoy sitting in all day. The handmade chairs are designed to provide comfort for hours. You will also enjoy the hand-crafted table with a painted picture of the original lodge in the center.
All the amenities mentioned above are also included in our boardroom.
Exclusive & Private Business Meeting Facility
The exclusivity of Heartland Lodge's buyouts is what makes us a perfect business meeting and conference venue. Each of the three lodges, or all the lodges, can be booked privately for your group so that you will be able to enjoy the area and conduct your meetings in privacy. Our 5-star accommodations and amenities along with our quality service and hospitality distinguish us from other conference facilities. We have on-site meeting planners to help you organize your event and ensure that your conference is of the highest standard.
Don't take our word for it – review some of our testimonials and see what other guests have to say about our premier conference facilities.
Heartland Lodge offers all the amenities you need including a full conference center and meeting space. We also offer a range of team building activities  that are both enjoyable and foster that essential camaraderie that all successful organizations thrive on.
Read on for more information about the resort, amenities, facilities, activities and more and feel free to contact us for more information.