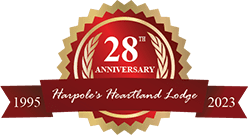 Weekend Getaways in Illinois
If you are looking for a weekend getaway in Illinois idea not far from the fast pace of Chicago or the busy streets of St. Louis, or anywhere in-between, Harpole's Heartland Lodge and Resort is the perfect choice for your Illinois weekend getaway! Whether you are a couple looking for a romantic weekend getaway or looking for a family escape you will enjoy everything our resort has to offer.
Situated along the Mississippi River bluffs in West-Central Illinois, Heartland Lodge has one of the most scenic river valley views in the Midwest. The incredible view is just ONE of the many reasons that guests visit us each year for an Illinois weekend getaway. Whether you live in Illinois, Missouri, Wisconsin, Indiana, or Iowa, Heartland Lodge is just far enough from your home to provide you with the perfect weekend escape.