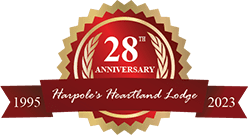 Anniversary Getaway Cabins & Lodges in Illinois
2023 Anniversary Review – "We found the accommodations, meals, activities, staff all amazing! We had a fabulous time and hope to be back. Julie helped us so much with the activities and Melissa was so friendly during our stay and even offered to take our picture. This was the perfect experience/place to celebrate our parents 60th anniversary."  The Myers Family
October 2023-  "We are honored to have been ranked the  #1 romantic getaway for couples in Illinois by WapitiTravel.com! Details here>>! See why for yourself below! Luxury lodging suites and private cabins with jetted two-person tubs, fireplace, ultra-comfy king-sized beds and several fun and relaxing on-site activities (romantic horseback ride/picnic, UTV rentals, sporting clays, hiking, bonfires) as well as several local attractions/ wineries! Please let us know if you have any questions about your next romantic retreat! Whether it be a wedding, honeymoon, anniversary or couple's getaway! Give us a call at 217-734-2526 or E-Mail us today!"
---
Anniversaries are precious. Anniversaries are celebrations. Anniversaries are meant to be savored, enjoyed, and treasured! In our busy, hectic, crazy lives, sometimes we forget to commemorate our life's most joyous occasions. Don't let that be the case this year with a luxurious, romantic, anniversary getaway at Heartland Lodge, centrally located in Illinois!
Romantic Anniversary Getaway in Illinois
Whether you are looking for outdoor adventure, exquisite luxury, or a unique combination of both, Heartland Lodge in Central Illinois is the perfect setting for the romantic anniversary getaway you and your other half will treasure for a lifetime. Just imagine the romance of toasting to each other beneath a sea of stars, curling up next to a roaring fire or soaking in a two-person hot tub. Imagine a romantic horseback ride for two or picnicking in the scenic, natural beauty of the Mississippi River Bluffs. There is magic in the air at Harpole's Heartland Lodge and we'd love to help you celebrate your anniversary by treating you to a beautiful, memorable anniversary getaway!
Now Available!  Call 217.734.2526
 CLICK TO CALL
 BOOK NOW
You will dine like royalty at your anniversary getaway at Heartland Lodge! At Heartland Lodge, we only serve the very best, home-cooked meals!
Our made-from-scratch, gourmet meals are second to none. You'll love our hearty brunches with something for everyone – complete with homemade breads, sweet treats, and all of your traditional favorites. And, after a day of horseback riding, sporting clays, ATVs, or just relaxing in your luxurious accommodations, you will be excited to hear the dinner bell ring and enjoy a feast fit for a king and queen! Our guests love our dinners, and we guarantee you will too! Entrees like country ham, roasts, pork chops, and Cornish game hens are paired with yummy sides and followed up with amazing desserts.
On your anniversary getaway, you deserve the very best! And that's what you get when you dine with us at the lodge!
We came for our Anniversary and we just loved the peacefulness we found. The food was excellent! Your cooks were so sweet and personable! Excellent cooks as well! Loved visiting with Gary at breakfast! We plan on trying to come back with friends and again for our anniversary again. You've got a great thing going on! We loved it! – John and Marilyn Lowe, Sherman, IL
Wonderfully romantic! Very kind, friendly, and helpful staff. The food was delicious and beautifully set for creating our romantic time away. Thank you! – Terry and Gayle Green, Erie, IL
Wonderful Anniversary!
Thanks Wanda and Gary for a wonderful time! The horseback riding was definitely one of the highlights for us. However, the hospitality, wonderful food (some of the best we've ever had), beautiful quiet setting, and immaculate comfortable rooms were the icing on the cake for our anniversary. The bonfire/smores under the stars was one of the most romantic evenings we've had in a while. Finally, having Wanda pray for our meal was truly the highlight! These are memories that we'll never forget mainly because we will be back to live them again, hopefully soon. We'll definitely tell everyone we know and hopefully bring our family back too! God bless! – Tony and MaryBeth Peterson
Create that spark on your anniversary with our Ultimate Romantic Getaway. This package includes two nights in the suite of your choice, and a basket including souvenir wine glasses, fruit and cheese. All of your meals are included – made from scratch and delicious just like Grandma's. You will enjoy our signature romantic horse ride that stops in a meadow with a linen covered table and picnic basket! (Actual baskets not included.) Click Here for Rate>>
January & February – One of the most romantic times to be at Heartland Lodge is during the winter. Many of our suites have a fireplace, Whirlpool, and an ultra-comfy king-size bed! We offer the same Ultimate Romantic Getaway package as above without the romantic horse ride. February is the official "Romantic Month" at Heartland! Click Here for Rate>>
At Harpole's Heartland Lodge, we offer a range of relaxing activities to help you forget all about the outside world and truly enjoy your anniversary! Whether you want to spend all day snuggled up in your room by the crackling fire, sit back and enjoy nature from the deck, bird watch, or relax in your private Whirlpool, you and your partner will truly love every moment of your anniversary celebration!
You can also enjoy our famous hayride! Take a trip along the Mississippi River bluffs and see all kinds of wildlife and the most scenic river valley view in the Midwest! Enjoy the breathtaking sunset across the river in the Missouri hills (weather permitting.) After the hayride, a bonfire will be waiting for you with a basket of goodies to make s'mores!
Are you a get-up-and-go kind of couple? Do you love the outdoors and want to spend some time exploring nature? We have the perfect options for you!
Go for a romantic horseback ride for two! Our horses are part of our family, and Willie, Josie, K-Hill, Nick, Roy and Vegas will be happy to show you around the breathtaking scenery. During the ride, you will find a linen covered picnic table with flowers and a basket of fruit, sandwiches, and sparkling grape juice. Toast your anniversary among the fragrant prairie wildflowers and enjoy the sounds of nature.
You can also go for an ATV ride! This is a unique and exciting way to explore our hundreds of acres of prairie, woods, and creeks. You will ride through a scenic paradise as you observe an abundance of wildlife, including whitetail deer, turkey, quail, pheasants, and much more! If you like to get a little dirty, check out some of our mud holes, where you can enjoy some real adventure! Don't worry though – there are plenty of trails for those who would like to take it easy.
Try out your shooting skills on our 15 station sporting clays course. Whether you are a beginner or an experienced shooter, you will love our stimulating course and enjoy the opportunity to share an unforgettable experience with you partner.
Deposit Policy
Full payment of your stay is due when making your reservations.
Cancellation Policy
Due to the nature of our business, we ask for a 30-day cancellation notice (60 day for lodge buyouts.) A processing fee of 10% of your total booking will be charged when cancelling. Cancellations without 30 days (60 day for lodge buyouts) will not be refunded. If someone in your original booking party does not show, you will be charged the full amount. These policies help us provide you with better service.