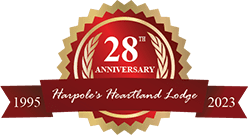 Romantic Honeymoon Vacation
Fall 2023-  "We are honored to have been ranked the #1 romantic getaway for couples in Illinois by WapitiTravel.com! Details here>>! See why for yourself below! Luxury lodging suites and private cabins with jetted two-person tubs, fireplace, ultra-comfy king sized beds and several fun and relaxing on-site activities (romantic horseback ride/picnic, UTV rentals, sporting clays, hiking, bonfires) as well as several local attractions/ wineries! Please let us know if you have any questions about your next romantic retreat! Whether it be a wedding, honeymoon, anniversary or couple's getaway! Give us a call at 217-734-2526 or E-Mail us today!"
Looking for that perfect romantic honeymoon escape?  An opportunity to unwind and enjoy some time – just the two of you, as husband and wife? Look no further than Harpole's Heartland Lodge for your romantic luxury honeymoon vacation.  Whether you are looking for an outdoor adventure or a lavish yet relaxing getaway, our resort will exceed even your wildest expectations!
The Mississippi River bluffs of West Central Illinois provide the perfect breathtaking, natural backdrop overlooking the Missouri hills for your serene honeymoon vacation. You will marvel at the stunning beauty of the scenery. The magic of the surrounding woods. The abundance and splendor of the local wildlife. There is truly nothing quite like the majesty of nature found at Harpole's Heartland Lodge.
You can enjoy the peace and serenity of the lodge, or you can enjoy an array of activities! View our full list of Activities and Amenities Here >>
From the moment you first step foot on the property, you will be swept up in the beauty and romance of the lodge. All areas of the resort feature nature-inspired decor that blends perfectly with the surrounding environment. You will be greeted by a two-story stone fireplace, flawless hardwood floors, and handcrafted Amish furniture. Each suite is uniquely themed so your accommodations will be as special as you have always dreamed.
You are sure to love whatever room you choose, however the Whitetail Suite in the Original Lodge and Luxury Suites in the Prairie Ridge Lodge offer the type of knock-your-socks-off elegance that you just can't find anywhere else. The Whitetail Suite boasts a king-size, triple-sheeted canopy bed and private Whirlpool. You'll also enjoy a walkout porch with a stunning view of wildlife. Our Luxury Suites feature king-size, triple-sheeted canopy beds, private Whirlpools, fireplaces, daybeds, plush comfy chairs and walkout porches. Just think, what could be more romantic than snuggling up in an ultra plush, triple-sheeted bed while enjoying the crackle of a nearby fireplace? Or opening a bottle of your favorite wine in your own private Whirlpool? Be sure to check out The Grand Suite and All About the View Suite in our newest Sunset Valley Lodge. If you want an entire cabin to yourself, you will want to stay at the romantic Heavenly View Cabin or a Private Romantic Luxury Cabin. Honeymooners never forget the privacy, peace and romance they find at Harpole's Heartland Lodge.
Your honeymoon getaway would not be complete without five-star, gourmet meals. That is exactly what Harpole's offers! Made-from-scratch, tantalizing, delicious meals are served in our Great Room next to a romantic fireplace. Our dinners and brunches are truly second to none. Guests enjoy such amazing dinners as country ham, roasts, pork chops and Cornish game hens, served along with gourmet sides and the most delicious desserts you can imagine! Brunch is just as special with homemade favorites that you will be talking about for weeks!
Create that extra spark on your honeymoon with our Ultimate Romantic Getaway. This package includes two nights in the suite of your choice, and a basket including souvenir wine glasses, fruit and cheese. All of your meals are included – made from scratch and delicious just like Grandma's. You will also enjoy our signature romantic horse ride that stops in a meadow with a linen covered table and picnic basket! (Actual baskets not included.)
Click Here for Rate>>
January & February – One of the most romantic times to be at Heartland Lodge is during the winter. Many of our suites have a fireplace, Whirlpool, and an ultra comfy king-size bed! We offer the same Ultimate Romantic Getaway package as above without the romantic horse ride. February is the official "Romantic Month" at Heartland!
Click Here for Rate>>
No matter if you are avid outdoor enthusiasts or just interested in quietly enjoying the serenity of the outdoors, we have just the activities for you.
Honeymooners can enjoy a romantic horseback for two. This includes a two-hour guided ride through breathtaking scenery and a picnic. Harpole's Heartland Lodge offers hundreds of miles of trails sure to captivate and excite riders. The lodge also offers ATV trails and Polaris UTV rentals suitable for all levels of riders – from novice to experienced. Try an ATV date and have the time of your life with a bit of romantic adventure!
You may also consider a round of sporting clays. This unique experience will be one that you will never forget – 15 stations, located on 15 acres surrounding the lodge in different natural settings! Even if you have no experience with firearms, sporting clays is sure to be a thrilling experience.
Our grounds offer plenty of other opportunities to unwind outdoors. In the spring, try your hands at morel mushroom hunting. In the summer, go butterfly spotting or blackberry picking. In the fall, Harpole's is home to just about the most beautiful changing leaves you can find in Illinois. In the winter, why not act like a kid again and go sledding?
Take a road trip along the Mississippi River bluffs and see all kinds of wildlife and the most scenic river valley view in the Midwest! Enjoy the breathtaking sunset across the river in the Missouri hills (weather permitting.) A bonfire will be waiting for you with a basket of goodies to make s'mores!