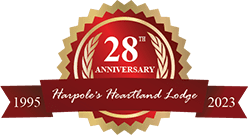 Whitetail Deer Hunting in Pike County Illinois
September 26th, 2023 – Pike County, IL Outfitter Report – "We have a few remaining prime archery pre-rut and rut hunt spots available at the end of October/mid- November! Call today to reserve your whitetail hunt of a lifetime! Call 217-982-4039 or E-Mail to inquire about our guided whitetail hunts today!"
Visit Heartland Lodge for legendary Pike County Illinois deer hunting, in one of the finest whitetail deer hunting lodges & outfitters in the country! Heartland Lodge is located in the middle of incredible free range Illinois deer hunting country. Located between the Mississippi and Illinois River drainages, Heartland provides habitat that is perfect for large whitetail bucks. The four key ingredients to having a quality deer herd are all found at Harpole's deer hunting lodge & outfitter. You must have genetics, food, habitat, and a good age structure to produce monster bucks and quality whitetail deer hunting. The genetics here in Illinois are the best in the country. The food and habitat could not be better. With a strict management program in place to preserve growth, Heartland has it all when hunting for incredible whitetail bucks.
Harpole's Lodge owns and leases thousands of acres of the best hunting ground in Pike County, Illinois' deer hunting territory. The land is scouted year-round; thus Heartland is not just a seasonal operation. We are working for you not only in the fall, but all year to assure you the best deer hunt possible. Heartland's reputation precedes itself as one of the finest whitetail deer hunting lodges & outfitters ever opened to the public.
Our goal is to have 100% satisfaction for each deer hunter. Compare us with other whitetail deer hunting lodges & outfitters. You won't be disappointed. We are among the finest in the country – and the only Orvis-approved hunting lodge in Illinois.
Deer Hunting Outfitters
When looking for a hunting outfitter, especially a whitetail deer hunting outfitter, you need to make sure you do your homework. There are so many Illinois outfitters and many are located in Pike County and West Central Illinois. New deer outfitters are popping up every year and whitetail hunters should make sure they have been in business at least 10 yrs. When hunting with an outfitter make sure you ask all the questions and if it sounds to good to be true it probably is.
Watch this video of Ron Way's
192″ Monster Whitetail!!
Read more about Ron's Massive Buck Here>>>