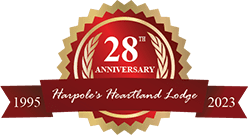 Pre-Rut Late October/ Early November Deer Hunting in Illinois
Late October/ Early November Pre-Rut Archery Bow Hunt in Illinois

This is one of my favorite times of the year at the lodge! Mature whitetails are becoming more active as scrapes and rubs are popping up everywhere as bucks begin to establish their dominance. Bucks are still in their core areas and start to become very territorial around common doe bedding areas. Bucks tend to be most susceptible to calling and decoying during this phase of the season as they're testosterone levels are surging. Anytime a weather front moves through this time of the season, it is almost guaranteed to have mature bucks up and moving in daylight hours. In my opinion, this is one of the best times to get a shot at any "resident" upper age class deer that are calling our properties home. The leaves are changing, the crops are coming out and mature buck activity is ramping up!
Late October, Early November/ Pre-Rut Bowhunting Strategy at the Lodge
Monitoring social scrapes during this time of year with trail cameras can be a great tool to help pattern bucks, especially for evening hunts over quality food sources. Although most scrape activity is done at night, there's a window of opportunity during the pre-rut that can yield success. A weather front during the early stages of the pre-rut can be a great opportunity to get in and kill a core buck that's been hitting a scrape consistently. Not necessarily in the middle of the night, but the bucks that have been hitting them at last light or an hour after dark will be the most killable bucks during this time of the season.
Pre-Rut Morning Hunts
Typically, during our pre-rut morning hunts we are hunting in the hardwoods, focusing on the main trails in transition areas from food source to bedding. In the early days of November, we may transition more to the classic funnels and travel corridors as bucks begin to cruise. During this time of the season can be one of the best times to get a crack at a target buck that has been frequenting scrapes just outside their main bedding. A scrape-line along a logging road or a ridgetop, paired with white oaks is a classic end of October/ early November bowhunting setup. Right after or during a light rain during this time frame will have the mature bucks on their feet and freshening up their scrapes. With the right conditions, hunters can experience the true magic of a pre-rut whitetail hunt.
Pre-Rut Evening Hunts
Our pre-rut evening hunts are typically over some type of food source whether it be a food plot, ag field, or white oak grove. If we have bucks that are still not entering the food sources in daylight, we may go back a little further in the timber and hunt transition areas going from bed to food. If we have warmer weather, we like to hunt secluded waterholes that are close to a primary food source. Bucks will be getting out of their beds and after munching on acorns and other "dry" browse throughout the day, they get thirsty! If we have several days of warm weather, one might be surprised at just how good some of our stand locations can be over water!
Hunting All Day During the Pre-Rut

If the weather is right, sitting all day during this timeframe can be fruitful as bucks start to become more and more active during daylight hours as testosterone builds and does begin to enter estrous. Just this last season, one of our hunters harvested a nice 5 1/2-year-old buck at 11:50 A.M.! The buck was crossing a wide-open ridge, traveling from one doe bedding area to another. Although it can be mentally challenging, sitting all day increases your odds of success two-fold. Our cooks will prepare a sack lunch for you if you plan to sit all day with more than enough food! Anytime a cold front is forecasted to move through during this time of the year, you'll defiantly want to be in a stand as many hours as possible! Learn more about the pros of sitting all day here>>.
Pre-Rut Hunting Conditions in Illinois
The weather from Mid-Late October/ Early-November can vary wildly depending on the season. Average daytime highs are in the 60's and average lows are in the lower 40's. We usually receive our first frost around Mid-October. Although uncommon, it's not out of the realm of possibility to see a few snowflakes during the latter part of October. However, on occasion, we do experience an "Indian Summer", where we have a few warm, dry days in a row. This can bring overall deer movement down considerably but hunting the front after one of these spells can be dynamite! It's without a doubt the most beautiful time to be in the deer stand as the leaves are a brilliant array of different colors and will gradually start to fall off the trees as the month goes on.
If you are interested in a pre-rut hunt this fall, call 217-982-4039 or E-Mail me today at Zach@HeartlandLodge.com for last minute whitetail cancellation hunt spots available and special pricing!
I hope to see you at the lodge this season!
-Zach Jumps
More Information on Archery Hunts