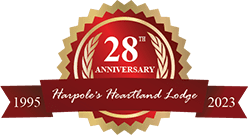 Peak Rut Guided Bow Hunts in Illinois
Hunting the peak of the rut in Pike County, Illinois is at the top of most die-hard bowhunters wish-list! With a high deer density, good buck to doe ratio and sheer number of trophy whitetails throughout the region, you never know what size of buck could be following a doe! It's not unusual for mature whitetails to be on the move at any and all times of the day in-between estrous does. It is truly a magical time of the year for a bowhunter to be in a stand. At the lodge, it's a highly anticipated time of year for our whitetail guides and staff. The peak of the rut in Pike County cannot be duplicated anywhere else!
Peak-Rut Hunting Strategy
At the lodge, we recommend sitting all-day if you can during the rut as the more hours you log, the more likely you will have success! Our chefs will prepare you a to-go meal for lunch or you can come back to the lodge for a hot meal at noon.
Tips for Sitting All Day in Stand >>
We typically hunt the classic pinch points, funnels or doe bedding areas during this time. By Mid-November, the majority of leaves have fallen off the hardwoods and visibility increase in the once dense timber. With the rolling bluff country in Pike and Calhoun counties that we hunt, whitetails can be visible from several hundred yards away and makes for an entertaining hunt. Bucks can be called in from a distance during this timeframe when they are in-between estrous does. Especially if it's a "new" buck is in an unfamiliar area!
We plant several acres of strategically placed food plots that enhance natural corridors that mature bucks utilize during the rut already. Several of our farms we have leased for over 10 years! Several years of history hunting farms during the rut really lends a hand in figuring out where mature bucks travel during day light hours.
We use several trail cameras on each farm to help us keep track of deer movement and when new bucks are in the area. Even though we run trail cameras year-around, we typically harvest several bucks a year we have little to no history with during the peak of the rut.
Weather Conditions During the Rut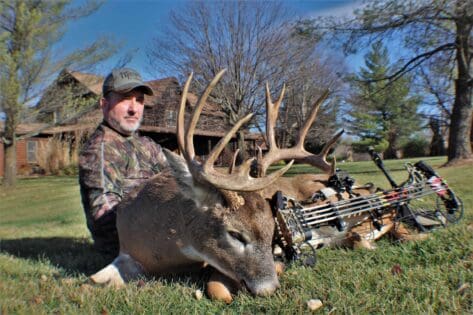 The weather in Mid-November is historically just right for bowhunters. Lows in the 30's and highs in the 50's make for a comfortable hunt. We do have the occasional snow in November, but it typically does not stick around long. Even if we do have a warm spell during the rut, it may suppress overall deer movement more towards the dawn and dusk hours, but bucks will still be on the move.
If you are interested in a peak-rut hunt this fall, call 217-982-4039 or E-Mail me today at Zach@HeartlandLodge.com for more information on available hunt dates and rates.
I hope to see you at the lodge this season!
-Zach Jumps
More Information on Archery Hunts
Trail Camera & Scouting Pictures
Last Updated: October 28th, 2022