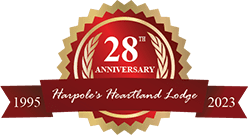 Wedding Venue in Central Illinois
December 2022– "We are honored to have been ranked the #1 romantic getaway for couples in Illinois by WapitiTravel.com! Details here>>! See why for yourself below! Luxury lodging suites and private cabins with jetted two-person tubs, fireplace, ultra-comfy king-sized beds and several fun and relaxing on-site activities (romantic horseback ride/picnic, UTV rentals, sporting clays, hiking, bonfires) as well as several local attractions/ wineries! Please let us know if you have any questions about hosting your wedding at the lodge! Give us a call at 217-734-2526 or E-Mail our wedding coordinator today!"
Heartland Lodge is the perfect romantic destination to host your indoor or outdoor wedding. Our wedding venue is located in central Illinois along the scenic Mississippi River bluffs in-between Quincy and Springfield, in Pike County Illinois. We are just a few short hours North of Saint Louis, Missouri and a 4–5-hour drive from Chicago, Illinois.
What better location for two new families gathering together to celebrate your wedding than at our picturesque lodge resort? You will not find a more beautiful and unique setting to host your special day. Whether it is a small intimate indoor wedding or an extravagant large outdoor wedding, we offer packages to suit a variety of options. Let us know your specific desires and we'll work closely with you to customize your wedding day event! Heartland Lodge is a perfect location to host everything for your wedding. The bridal shower, rehearsal dinner, wedding, reception, and accommodations for your party can all be hosted right here at the resort!
For your wedding honeymoon, enjoy one of our romantic honeymoon cabins, luxury suites or the honeymoon suites at our Sunset Valley Lodge!
Click the sections below for more information.
BRIDES magazine cover model Anna Speckhart held her reception at Sunset Valleys Lodge's reception building and utilized the lodges to accommodate her guests. Anna's guest list included celebrities such as Jennifer Aniston.
Work with our knowledgeable wedding coordinator to plan the perfect wedding. By using the lodge and resort's surrounding environment as a natural backdrop, you will have the most remarkable photographs with little effort on your part. For those couples seeking an outdoor wedding location, we offer over 1,000 acres of scenic ridges, bluffs and valleys, making your options limited only by your imagination. Another option would be an indoor ceremony in one of our rustically decorated lodges.
The resort's romantic setting is the perfect destination for your romantic honeymoon. Enjoy all the romantic activities the lodge has to offer.
After a fun day together, relax in one of our romantic honeymoon cabins, luxury suites or honeymoon suites at our Sunset Valley Lodge
Honeymoon Suites – There are three honeymoon suites in the Sunset Valley Lodge. The Grand View Suite, All About the View Suite and Sunset View Suite are perfect for your honeymoon. You can pick which room is perfect for your special night!
Romantic Cabins – These honeymoon cabins are decorated with its own unique theme. All cabins are carefully crafted with knotty pine and cedar walls, fifteen-foot vaulted ceilings, hand-carved Old Hickory furniture, high quality fixtures and appliances. Each cabin with a heart shaped hot tub (Whirlpool tub) also features a romantic fireplace, ultra-comfy king-size bed, large 4K Ultra HD television with 4K Blu-ray player for next level viewing experience. Enjoy the fireplace and TV while relaxing in the hot tub!
Luxury Suites – These rooms were designed with the honeymoon couple in mind. These suites have king-size, triple-sheeted canopy beds, private Whirlpool, fireplace, day bed, comfy chairs, walkout porch, and each suite is decorated according to its own theme. The ultra-comfy beds have become an attraction themselves!
Whitetail Suite – The Whitetail Suite in the Original lodge is first honeymoon suite Heartland Lodge offered and is still one of the most popular rooms booked every year. This rooms features a king-size, triple-sheeted canopy bed, a private two-person hot tub, and fireplace. This suite is decorated in a Whitetail theme after the beautiful whitetail deer that are abundant around the resort. This room also has French doors leading to a walkout porch with a porch glider – perfect for viewing the wildlife.
Outside on the deck at each lodge or cabin you can relax with your new love and take in all the natural beauty that surrounds you. Be sure to check out our Honeymoon Page for more information.
Let the magic of your Heartland Lodge wedding begin months in advance! Your bridal shower will be a perfect introduction to the amenities and hospitality your attendants and guests will experience at our lodge on your special day.
The night before your big day – finishing the last-minute details, practicing your walk down the aisle, and preparing for that wonderful tomorrow. Celebrate the fulfillment of your plans with an extra-special Rehearsal Dinner without having to set foot outside the magical place where your new life will begin.

No need to take your celebration elsewhere – we offer a large reception building that is perfect for wedding receptions. This unique venue will be one that your guests will enjoy and always remember! A tent can be easily added so your guests can enjoy the outdoors under the cover of a tent. The sky is your limit on how creative you can become in decorating for your reception.
You have the option to buy-out one or all three lodges and one cabin. You can book the resort for your EXCLUSIVE use, which means only you and your guests will have the entire place to yourselves. It's unlike being in a large hotel where they have other events, guests, and meetings going on all around you while your special day is being celebrated. Since our wedding bookings are almost always an overnight event, you and your guests don't have to worry about driving home after a long day of celebrating.
Our Original Lodge includes 11 regular bedrooms, family room with queen bed and a set of bunk beds, and a honeymoon suite for the couple, and all rooms include a private bath. The Original Lodge also features a spectacular Great Room and Recreation Room that includes a pool table, big screen TV with ample seating, library, and numerous other games. There is also a large deck and covered patio.
The Prairie Ridge Lodge features our unique 1500 sq. ft. indoor/outdoor reception hall, 7 luxury suites and grand dining hall. Both lodges sit on 1200 acres of beautiful rolling hills and trails. We offer many recreational activities such as ATV's, horseback riding, mountain biking or sporting clays to entertain your wedding party and guests.
Less than a mile from the main resort is our newest lodge, called Sunset Valley. This lodge is located on its very own 52 acres and is a perfect location for weddings. This lodge has 7 suites and bedrooms, spacious great and recreational rooms, and large outdoor deck with a built-in gazebo (perfect for weddings). Located next to this lodge is our large 60′ x 120′ Morton building, ideal for wedding receptions.
Five miles from the main resort is our cabin, called Heavenly View. This cabin is located on its very own 50 acres and is a beautiful setting for small weddings or extra guests. The cabin has 4 suites and bedrooms, large living room, recreation room, library, a very nice country kitchen and is surrounded on three sides by a spacious deck.
Our Private Romantic Luxury Cabins are our newest addition to the resort. Each cabin with hot tub also features a romantic fireplace, ultra-comfy king-size bed, large HD television, relaxing private deck with barbecue grill, kitchen, and private fire pit to roast marshmallows or to make your own s'mores.
Heartland Lodge requires a 50% deposit at the time of booking with the remaining balance due 90 days before event. If cancelled 90 days before wedding is scheduled, you will be refunded your deposit less a 20% processing fee of the total reservation. There are NO REFUNDS if cancelled within 90 days of the scheduled date.
Harpole's Heartland Lodge strives to give our guests the best experience possible. We understand that your upcoming trip is a significant investment. We offer trip insurance through North America's leading provider of Travel Insurance called "Travel Guard"
There are many circumstances that could change your plans. Please take a few minutes to learn how you can protect yourself. If you choose to decline this valuable coverage, you are assuming any financial loss associated with a cancellation or a change in your travel arrangements.