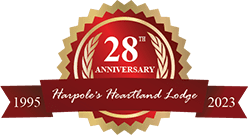 Never Too Early to Plan Your Vacation!!
When it comes to planning trips and vacations for Dan and I, I am usually pretty good about scheduling our travel and activities in order to enjoy all that we want to do…no matter where we go. And yes, sometimes our plans have to change based on where we are at and who we are with. In fact, we just returned from our annual Florida vacation to visit my in-laws and as I was driving back on Sunday, listening to the Daytona 500 on the radio, I realized that I had not planned this trip very well. You see, I am a huge NASCAR fan and leaving Orlando the morning of the Daytona 500…when I was so close to Daytona…was a tough start to the day. I realized then and there that I will start planning next year's Florida vacation around the Daytona 500 so that hopefully, we can attend next year's race.
But what does this have to do with you? And with Heartland Lodge? It's all about the vacation…and the planning! And it's never too early to start! Maybe you don't have family in Florida that you can go visit each year…or maybe your extended family joins you on vacation. But either way, you can't go wrong with a vacation at Heart
land Lodge in Nebo, Illinois. About three and a half years ago, I wrote a blog titled "Plan Your Illinois Vacation Now" and mentioned many of the reasons why a vacation based in Pike County, Illinois would be a great time. The lodge activities, the natural surroundings, the history and more! And none of that has changed…if anything, I have learned that there is more to do than ever!
I grew up in Central Illinois so I enjoyed visiting many of the historical sites as a child. But throughout our years of talking with other guests at the lodge, I have learned that not everyone had the same opportunity I did. Visiting places like Hannibal, Missouri (rich with Mark Twain history) or Springfield, Illinois (the state capitol and home to the Abraham Lincoln Presidential Library and Museum) can be highlights for guests from all over the county…and the world! And 2017 is even more exciting for those who enjoy a little bit of history.
But even though a vacation at Heartland can be rich in history, both local and statewide, there are so many other things to do that you may need to book more days next year! Consider checking out one of the local wineries or the many antique stores and shops available for your shopping pleasure. Think about looking at the local concert schedule or sports schedule. There are some great local bands that will be hitting the fairs and festivals this summer, including State Line Drive at the Pike County Fair in Pleasant Hill, IL. And of course, you can always take in a St. Louis Cardinals game but think about the farm teams or minor league teams like the River City Rascals.
You could always hit the local golf course or sign up for one of the many 5K runs throughout the year!
But if your vacation, spring break or extended weekend involves a family reunion, Heartland is perfect for your next reunion! With three lodges available for complete buyouts, what a great way to catch up with family AND reconnect while enjoying great meals, beautiful sunrises, sunset hayrides and s'mores around the bonfire! Get the family out on the sporting clays course, go for a horseback ride or explore the property on an ATV.
The moral of the story? Start planning today! Heartland Lodge, nestled in the heart of Pike County, IL is the PERFECT place to call 'home base' for your Midwest vacation. And once you have explored all the local tourist attractions that Pike County has to offer, you can venture on to other great tourist destinations that are just a short drive away from the lodge.
It doesn't matter what time of year you take your vacation, there are always activities at the lodge…and in the surrounding communities…that will keep you entertained! Check out the Illinois vacation packages available at the lodge and book your vacation today! A Midwest vacation at Heartland Lodge is the perfect combination of activities during the day…and rest and relaxation at night!
Lori Biehl
Eighteen-Year-In-a-Row Guest
Last Updated: February 28th, 2017