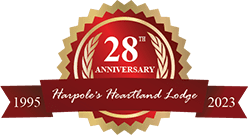 Upland Bird Hunting Lodge
November 22nd, 2023 – Upland Hunting Lodge Update – "Now is the time to reserve your winter/ spring pheasant hunt! Call today at 217-734-2526 or E-Mail Gary@HeartlandLodge.com for more information!  The upland hunting has been phenomenal with several great hunts and new, life-long memories being created with every hunter!"
Enjoy upland bird hunting in Illinois at Orvis-endorsed Heartland -Lodge. We have the best wild quail hunting and pheasant hunting in Illinois! Hunt for native bobwhite quail and pheasant behind some of the best hunting dogs in the country. Our German Shorthair Pointers, English Pointers and French Brittany's are second to none. An abundance of native prairie grasses mixed with fields of milo present the ideal habitat for upland bird hunting. No need for you to work the dogs, carry the birds, and dress the game on our guided hunts. At Heartland Lodge, you'll have the assistance of our friendly bird hunting guides. This Orvis-endorsed wing shooting operation is one of the finest in the country and the only Illinois hunting lodge endorsed by Orvis.
Wing shooting at Heartland is a favorite among hunters visiting the lodge. This area has a long tradition of wild quail hunting and pheasant hunting, along with quality bird dogs. You will enjoy three hearty home-cooked meals every day. After the hunt, relax next to the large stone fireplace in our Great Room or enjoy a game of pool. The relaxation of the lodge is something you will look forward to after a full day of hunting.
An Upland Hunting Tradition
Your stay with us is more than an upland hunt. It's part of a strong hunting tradition that started back when Heartland's owner, Gary Harpole, was a child. Each year, new traditions are being created by our guests. It's our hope that you create your own memories at Heartland with your family or friends and carry on a tradition that started many years ago.
Click the sections below for more information-.