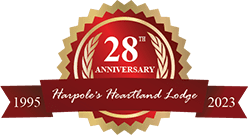 Horseback Riding Trails & Stables
Horseback Riding Trails in Illinois
If you enjoy horseback riding and being around others who love horses, you will fall in love with Heartland Lodge's Riding Stables. Nestled between the Mississippi and Illinois Rivers, and overlooking the Missouri river bluffs, Heartland's unique setting is perfect for a horseback riding vacation. Rolling hills, scenic views and incredible trails make Heartland one of the premier equestrian centers and stables in the Midwest. Heartland has miles of horseback riding trails on 1,200 rolling acres. You will ride through forest, creeks, prairies, and be in awe with the incredible outdoors that surround you! If you are looking for a place to ride, but are not able to spend the night, you are welcome to join in on the fun for a day. A day pass lets you enjoy all the beauty and splendor that Heartland has to offer with your own horse.
Horseback Trail Rides
Heartland has hourly horseback riding trail rides available for those that don't have a horse (during season). Our horses are calm, but not boring! You will enjoy riding Josie, Rocky, Vegas, Willy, Roy or one of the other members of our extended family. You can come down for a ride and spend the night in our lodge or just ride for the day without staying. Horse riding reservations in advance are recommended. (Must be 10 years old or older to ride.) Horseback trail riding is $49 per hour, per person. Call for more information at 217-734-2526.
Cabin Rentals with Horse Stalls
There are horse stables with stalls available to board your horse while staying at our cabin rentals. A large outdoor arena is located adjacent to our main lodge. Clean stalls are provided when boarding your horse in our stables. We have several different lodging and cabin rental options. From Private Luxury Cabins to Luxury Suites we can accommodate your needs when staying with us on your horse-riding vacation.
Things to know and bring when you're bringing your own horse:
Bring your own feed including hay.
Water bucket – Please bring your own water bucket.
We will have a clean stall with bedding ready. We do not clean stalls during your stay.
We recommend coming during the week if possible. Saturday and Sunday can be busy with ATV guests.
Romantic Couple's Horse-Riding Trails
New is our special "Romantic Ride for Two." This is a two-hour horseback ride that must be reserved in advance and is limited to couples only. One of our professional guides will lead you and that special someone on a picturesque ride through some of our most breathtaking scenery. You will then break out into a quaint meadow with a surprise waiting just for you – a linen-covered table with flowers and a wicker basket of fruit, sandwiches and sparkling grape juice with wine glasses. Toast the one you love amid the fragrance of the prairie wildflowers and enjoy a moment of quality time like no other. This special package is available by advance reservation only.
Horse Lover's Vacation
For those who want a horseback riding vacation, Heartland is the perfect spot. If you have your own horses, you can board them in our stables or use our outdoor arena. For those who don't have their own horses, we are just the place for you. You can help our wranglers feed and water our horses, then brush and saddle the horses before the ride. You can even help clean out the stalls if you would like. After the day is over you can also help unsaddle the horses, wash them off and brush them down.