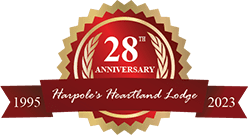 Best Workcation Destination Locations in the Midwest!
Looking for the best workcation in the Midwest!? You've found the perfect working/vacation destination location! Harpole's Heartland Lodge has all the ingredients for the perfect workcation! Our luxurious lodges and private cabins sit amongst some of the most beautiful, pristine wilderness in the entire country! Pair the natural beauty with all the activities and amenities (horseback trail riding, sporting clays, Polaris UTV rentals, hiking, fishing & more!), ultra-high speed WIFI, amazing gourmet home-cooked meals and luxurious lodging with hot tubs, ultra-comfy king beds and more! Harpole's Heartland Lodge is the best workcation locations in the Midwest!!
Workcations- Benefit Your Mental Health & Wellbeing!
One of the many benefits of going on a workcation is being able to leave the daily stresses of being at your home behind! Forget about doing the dishes, laundry or cooking. You'll be able to focus completely on getting your work done and relaxing! You can relax on the back patios, enjoy a campfire, go on a hike through the beautiful 1,200 rolling acres of forest, creeks, ponds and meadows and much more!
Having the ability to relax and unwind after your workday can actually help boost your productivity, mood and energy levels! Just imagine yourself relaxing on the back patio in a rocking chair, listening along to the many songbirds that call the forest home, smoke from the oak and hickory campfire lingers in the air, beside you lays your favorite beverage (maybe freshly ground coffee or adult beverage) and the ingredients to make smore's (marshmallows, dark chocolate, graham crackers). Maybe you'll go for a relaxing hike through the forest right outside your lodge, go on a relaxing horseback trail ride or pour another drink and keep the fire going! Whatever you choose, you'll be glad you chose Harpole's Heartland Lodge for your next workcation destination!
---
"We have found that off-site gatherings are a great way to break down barriers and begin the planning process for the kind of change that ultimately revolutionizes a culture. When people are removed from daily routines and placed in an atmosphere that encourages free expression of their dreams, amazing ideas begin to emerge and flourish."
-The Disney Way
---
Workcation Activities- When the Workday is Over, it's Time to Play!
After a few hours on the computer, it's time to explore the great outdoors! One of the necessitates of having an enjoyable workcation is having fun activities to do after the job is done! Rent a Polaris UTV, go on a hike, a mighty Mississippi River cruise, enjoy a hayride and bonfire, horseback trail riding, pistol range, sporting clays and so much more! Check out all the fun on-site activities we have to offer right here at the resort or nearby  Click Here for Activities and Amenities >>
Booking a Workcation at Heartland Lodge
Booking a workcation at the lodge is super simple! You can BOOK ONLINE HERE or give us a call at 217-734-2526 and talk to one of our very helpful reservationists (office hours 8AM-5PM Mon-Sat). Many "work-vacationers" enjoy staying for 5-7 days. They will leave from their home on a Saturday or Sunday and stay Monday-Friday at the lodge and depart Saturday or Sunday morning. This allows them to not take any extra vacation days through the week! This also allows them to take advantage of our weekday rates at the lodge! Booking around holidays are popular as well as many holidays are during the week. Work-vacationer's will bring their family or friends along for an extended stay on an already short work week!
Work a little, play a lot while staying at the lodge!! You'll be able to go from closing the deal in a conference call to pristine natural surroundings right out the back door!
Last Updated: April 25th, 2023