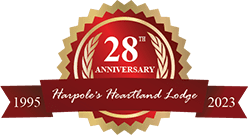 Turkey Hunting in Illinois
May 8th, 2023- Eastern Turkey Hunting Outfitter Report- "We have had a phenomenal 2023 turkey season so far with several big toms being harvested and lifelong memories created. We seen several jakes this season, next year should be really good as well! Now is the time to book your 2024 spring turkey hunt. We take a limited number of hunters to ensure a high-quality guided turkey hunt. Inquire now for more information @ 217-734-2526."
Eastern Turkey Hunting Outfitters
Heartland Lodge was designed with you, the hunter, in mind. Enjoy hunting big Eastern turkeys in beautiful Pike and Calhoun County, Illinois. An abundance of CRP fields mixed with mature hardwoods and food plots of milo and clover produces some of the best habitat ideal for turkey hunting.
Turkey hunting at Heartland is a favorite among hunters visiting the lodge. This area has a long tradition of turkey hunting. You will enjoy this turkey hunting lodge with three hearty home-cooked meals every day. After the hunt, relax next to the large stone fireplace in our Great Room or enjoy a game of pool in our recreation room. The relaxing atmosphere of the lodge is something you will look forward to after each full day of hunting. We are considered one of the best turkey hunting outfitters because of our luxury accommodations, a healthy Eastern turkey population, professional and compassionate turkey guides, and gourmet home-cooked meals.
A Turkey Hunting Tradition at the Lodge
Your stay with us is more than a turkey hunt. It's part of a strong hunting tradition that started back when Heartland's owner, Gary Harpole, was a child. Each year new traditions are being created by our guests. It's our hope that you create your own memories at Heartland with your family or friends and carry on a tradition that started many years ago. Whether it's your first turkey hunt, or you're trying to complete the turkey grand slam, a turkey hunt at the lodge will be one to remember!
Turkey hunting reviews from our hunters >>
Click the sections below for more information on our turkey hunts.