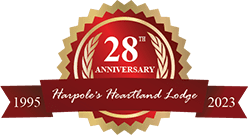 Turkey Hunting in Illinois
November 3rd, 2023- Eastern Turkey Hunting Outfitter Report- "We only have a few spots remaining for our 2024 spring turkey season as we had several hunters book from last year. If you are interested, please inquire now for more information @ 217-734-2526."
Eastern Turkey Hunting Outfitters
Heartland Lodge was designed with you, the hunter, in mind. Enjoy hunting big Eastern turkeys in beautiful Pike and Calhoun County, Illinois. An abundance of CRP fields mixed with mature hardwoods and food plots of milo and clover produces some of the best habitat ideal for turkey hunting.
Turkey hunting at Heartland is a favorite among hunters visiting the lodge. This area has a long tradition of turkey hunting. You will enjoy this turkey hunting lodge with three hearty home-cooked meals every day. After the hunt, relax next to the large stone fireplace in our Great Room or enjoy a game of pool in our recreation room. The relaxing atmosphere of the lodge is something you will look forward to after each full day of hunting. We are considered one of the best turkey hunting outfitters because of our luxury accommodations, a healthy Eastern turkey population, professional and compassionate turkey guides, and gourmet home-cooked meals.
A Turkey Hunting Tradition at the Lodge
Your stay with us is more than a turkey hunt. It's part of a strong hunting tradition that started back when Heartland's owner, Gary Harpole, was a child. Each year new traditions are being created by our guests. It's our hope that you create your own memories at Heartland with your family or friends and carry on a tradition that started many years ago. Whether it's your first turkey hunt, or you're trying to complete the turkey grand slam, a turkey hunt at the lodge will be one to remember!
Turkey hunting reviews from our hunters >>
Click the sections below for more information on our turkey hunts.
At Heartland, we hunt a mixture of steep ravines, rolling hills, pastures, crop fields, and river bottoms. During your 3-day guided turkey hunt, you may hunt many of these different terrains.
The physical demands of your hunt can vary from mild to challenging but our turkey hunting guides are more than happy to accommodate your physical limitations and hunting style. We do the majority of our turkey hunting out of a ground blind set up on some type of food plot. We scout every day during the spring and use trail cameras to help pattern turkeys.
We plant several acres of food plots that turkeys absolutely love! We plant a mixture of rye, oats, winter wheat, and a variety of clovers that turkeys absolutely devour. Not only do our food plots attract turkeys but it holds them in an area creating higher quality hunts.
Not only do we have the food turkeys desire, but we also conduct controlled burns, roosting area enhancement, and keep logging roads and other strut zones clear, optimizing our turkey hunting hotspots.
Eastern Turkey Hunting Packages
Three-Night, Three-Day Hunts – Arrive the night before between 3:00 p.m. – 5:00 p.m.
We have an abundance of free-roaming wild turkeys on our thousands of acres. Your guide will take you on the hunt of a lifetime in some of the most beautiful country that Illinois turkey hunting has to offer. It is a one-on-one hunt with our very friendly and qualified guides, whose mission is your success and enjoyment.
The day our turkey hunters arrive at the lodge we typically shoot your turkey hunting gun just to get an idea for how your gun patterns. Supper is at 6:00 p.m. and then your guide will pick you up the following morning at a predetermined time. In Illinois, you can only hunt until 1:00 p.m. Lunch is served after your hunt and the rest of the evening is for napping and relaxing or hunters are welcome to participate in any of the activities we have to offer at the lodge. Including mushroom hunting, shed hunting, sporting clays, horseback riding, atv riding, fishing, pistol shooting and more! On the last day of your hunt, you depart after lunch.
For all turkey tags you need to contact the Illinois Department of Natural Resources (IDNR). Please call 217-782-7305 to have the application sent to you or visit them online at https://dnr.state.il.us.
Youth turkey hunts are a great way to get kids involved in hunting. Our spring turkey hunts are normally very successful, providing a positive experience for a youth hunter. For more information on our youth hunts, go to our Guided Youth Turkey Hunts page.
Most mature gobblers weigh between 20-24 lbs. and have 3/4″- 1 1/2″ spurs and beard lengths of 8″-12″. Illinois turkey hunts are for the "Eastern" Sub-species and 100% wild.
Legal shooting time requires us to quit hunting at 1:00 p.m. This allows you plenty of time to relax and enjoy some of the other activities that Heartland has to offer. Sporting clays, wingshooting, rental UTV's, hiking, fishing and mushroom hunting are a few of the activities you can participate in.
We limit our turkey hunters to eight hunters per week to assure a quality hunt for everyone.
All hunts are fully guided. Guides will do the calling and the hunters are welcome to call if they would like.
We hunt on thousands of acres located in Pike and Calhoun Counties.
The average opportunity rate is approximately 90%.
We encourage the harvest of mature gobblers only. Jakes are permitted for a first-time turkey hunter only.
Bows are legal.
Shotguns must be 10 – 20 gauge.
Shot shells must be no larger than 4 shot and no smaller than 6 shot.
All guns must be plugged and not able to hold more than 3 shells at a time.
Hunters may harvest a second bird for an additional $500 if a second permit is held by the hunter for the same season.
Care of your bird is handled by your turkey guide.
CLICK TO CALL
Where Are We?
Heartland Lodge is in Pike County, Illinois, northeast of St. Louis, Missouri and Southwest of Springfield, Illinois. Click here for directions and a map.
Deposit Policy
A payment of 50% of your total hunt is due when making your reservations.
Cancellation Policy
If you cancel before January 1st of year arriving at Harpole's Heartland Lodge, your deposit will be refunded less 10% of total hunt. No refunds are given after January 1st of the year of the scheduled hunt.
Transportation
Lambert St. Louis International Airport is the closest major airport. For private planes, Quincy and Pittsfield airports are the closest. Visit our directions page for directions for driving to the lodge.
Spring Turkey Hunting Rates
*SPECIAL hunt prices below are valid for a limited time.
Youth Turkey Hunts- 2 Night, 2 Day Hunt
$1,250
Regular Season- 3 Night, 3 Day Hunt
$2,250
**includes 1 male turkey (additional birds can be harvested for $500 per bird) guides, meals, accommodations & game cleaning
Call for select dates. 217-734-2526
Illinois turkey hunting license
Your bow or gun and case
Raingear
Full camouflage clothing including face mask and gloves
Turkey calls (Optional)
Turkey vest & cushion (Optional)
Binoculars (Optional)
Camera (Optional)
Cooler (Optional)
Slippers or heavy socks (Shoes are removed in mud room)
Tick and bug repellent
Rubber boots are recommended. (helps to keep ticks away and your feet dry from morning dew)
Extra shells
Harpole's Heartland Lodge strives to give our guests the best experience possible. We understand that your upcoming trip is a significant investment. We offer trip insurance through North America's leading provider of Travel Insurance called "Travel Guard".
There are many circumstances that could change your plans. Please take a few minutes to learn how you can protect yourself. If you choose to decline this valuable coverage, you are assuming any financial loss associated with a cancellation or a change in your travel arrangements.
Our turkey guides are fanatic turkey hunters! Several of our turkey guides travel across several states every spring hunting gobblers! Our turkey hunts start in Late-March and run through Mid-May. We specifically put in several acres of clover food plots, run near 100 trail cameras and scout our birds beginning in early March to get our turkey hunters on birds. If you are a passionate turkey hunter that's interested in becoming a turkey hunting guide this spring, please follow the link below for more information.
Click here for more information on becoming a turkey guide>>