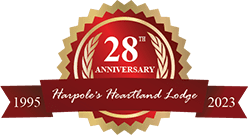 Quail Ridge Cabin
August 2023- "We are excited to announce our grand opening of our newest lodging option, the Quail Ridge Cabin! This quintessential cabin is only two miles from the main resort and is now available to reserve Online Here or by phone (217-734-2526). Quail Ridge will be perfect for your Friends & Family Getaways, Reunions, ATV Groups, Corporate Retreats, Anniversary Getaways, Hunting Getaways or Birthday Vacations!"
 BOOK NOW
 CLICK TO CALL
The Quail Ridge Cabin is located in West-Central Illinois and sits atop a beautiful knob overlooking gently rolling meadows, agriculture fields and forest. Just a couple miles from the main resort off a dead-end road, Quail Ridge, is a completely secluded getaway for those looking for the perfect escape. Whether it be a weekend getaway or Weekday Retreat, 2 or 3 day mini-vacation or a Work-cation, Quail Ridge offers a peaceful, private getaway in the serenity of nature. Whether you are staying at the lodge for a vacation or hunting trip, you will be sure to enjoy this cabin. It is the perfect private cabin getaway that offers complete seclusion and privacy!
This cabin is decorated with its own unique theme- a mix of carefully crafted knotty pine walls, twenty-foot vaulted ceilings, large recreation/ dining room with fireplace, high-quality fixtures and appliances. Relax and enjoy the expansive views overlooking the pristine countryside from the Western facing back patio with comfortable seating for your friends and family. Once the sun sets, enjoy roasting marshmallows and eating smore's over the bonfire pit in the backyard.
Quail Ridge has four bedrooms and three bathrooms. (1-8 guests- no extra person's fee for up to 8 guests!). The master suite has an ultra-comfy king bed with a beautiful view of the rolling meadow below. The other three rooms have a queen/twin bunk bed along with an extra bunk bed set.
You will not want to leave the pleasure of this cabin, but we encourage you to take time out and enjoy our different activities or sightsee at the many Local Attractions that are an easy drive from the resort. ATV/UTV riders will be able to easily park around this cabin with trailers.
Quail Ridge has a fully equipped kitchen for those of you who enjoy cooking your own meals. You can also dine-out at one of the many Local Restaurants or choose from our Favorite Meal Options Here>>.
*There is no direct access to the ATV/UTV park from this cabin, we encourage you to leave your trailers and machines in the parking area at the main resort for day riding.
Quail Ridge was initially built with the idea of creating the ideal hunter's getaway cabin. Spacious enough for your group of friends and family or an executive team (up to 8 hunters, possibly more) to comfortably enjoy after a long day afield. There's not a bad seat in the living room to watch the game on our large high-definition TV! Two oak tables in the dining area are perfect for snacks, playing cards and conversating about your days' adventures. There are few hunting lodges that can offer a completely secluded, private cabin such as this one that leave a lasting impression on you and your guests!
Quail Ridge has a two-night minimum stay on weekends, but you will want to spend more than just two nights and enjoy a long three-day weekend or seven-day vacation!
Mid-December through Mid-October Lodging Rates
$600 for 1-8 people, per night. (Only $75 per person if you have 8 guests!!)
Extra person fees- If there are more than 8 guests, the fee will be $16 for 11 years and under and $39 for 12 years and over.
Notes:
$35 Cleaning fee (cabin is cleaned after departure.)
$200 Damage deposit.
No pets allowed.
Enjoy all the great Activities & Amenities our resort has to offer along with the many Local Attractions. Take in all the great attractions, restaurants and events that are held in our area each year. There are many great site-seeing locations in Pike and Calhoun Counties along with the surrounding communities. Enjoy the water park in Grafton, Illinois that overlooks the Mississippi River. See where Lewis and Clark started their expedition in Hartford, Illinois. Explore where the adventures of Tom Sawyer and Huckleberry Finn took place in Hannibal, Missouri (45 mins from lodge). Take a tour of the amazing Lincoln Presidential Museum in Springfield, Illinois (1 hour away). Visit the Arch, Missouri Botanical Gardens, Six Flags and professional sporting events in St Louis (1 1/2 hours away). Relax and enjoy one of the wineries, pubs or take in some shopping. There is so much to do at the Heartland Lodge Resort and surrounding area!
What to Bring
Paper products, condiments, spices, food, and drinks
Soap, shampoo, paper towels, dishwasher soap, etc.
Matches and fire starter
DO NOT bring firewood. Firewood is for sale at the resort.
What's Included/Miscellaneous:
High quality linens (minimum 400 thread count) and towels
High quality pillows
4K Ultra HD television
4K Blu-ray player
Minimum two-night stay required on weekends.
Housekeeping will clean your cabin before you arrive and after you depart (not during your stay). Any excessive cleaning will be charged to the credit card on file.
No pets allowed.
Special Note: All guests need to remove their shoes in the foyer. You may bring house slippers or just wear your heavy socks while in the cabin. Our guests really enjoy this feature – it's just like home!
Deposit
Full payment of your stay is due when making your reservations.
Cancellation Policy
Due to the nature of our business, we ask for a 30-day cancellation notice for this cabin rental. A processing fee of 10% of your total booking will be charged when cancelling. Cancellations without 30 days will not be refunded. These policies help us provide you with better service.
Please read all our policies PRIOR to making a reservation.
Harpole's Heartland Lodge strives to give our guests the best experience possible. We understand that your upcoming trip is a significant investment. We offer trip insurance through North America's leading provider of Travel Insurance called "Travel Guard".
There are many circumstances that could change your plans. Please take a few minutes to learn how you can protect yourself. If you choose to decline this valuable coverage, you are assuming any financial loss associated with a cancellation or a change in your travel arrangements.