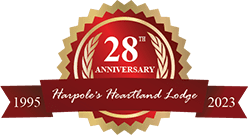 Convenient Meal Options
There are several great meal options close for you to enjoy. You may want to stop by one of them on your way to Heartland and pick something up or visit them after arriving at the lodge. There is no traffic and very few stop lights, if any, so travel is quick and easy with beautiful scenery along the way. Please call in advance to make sure places are open.
Do it yourself ideas like roasting hotdogs, smores, frozen pizza are fun and delicious! Barbequing on the back patio is a great way to enjoy a meal. Using the kitchen to make dinner together is a romantic way to spend the evening. Donuts and cinnamon rolls are always a breakfast favorite!
Prepared Meals Ready to Cook

County Market Pittsfield

17 miles from main lodges
Carry out, Dine in
Call 217.285.4453 – Ask for the deli

Ambrosia Goods – "From our Farm To Your Table"

John & Robin Brummell
Call 217.407.0643 or 217.242.4330

You can also call your local grocery store to see what options they offer
Bob's Red Fox – Great Pizza!

A favorite among locals
Pleasant Hill
Carry out only
7 miles from main lodges
217.734.2812
Watts Up Café – Varity of meals. Normally have a special of the day.

Nebo local town charm
Dine in, carry out
3 miles from the main lodges
217.734.2020
Baytown Feed Mill – Varity of meals.

Offers fresh catfish meals
Mozier
Dine in, carry out
10.5 miles from main lodges (Closer from Heavenly View Cabin)
618.232.9881
Subway – Great lunch or dinner option to go!

Pittsfield & Hardin
Dine in, carry out
16 miles from main lodges (Pittsfield)
285.2473 (Pittsfield)
29 miles from the main lodges (Hardin – Closer from Heavenly View Cabin)
618.576.9912 (Hardin)
Nucci's – Italian

Wonderful Italian food in a unique setting – Live entertainment Friday & Saturday nights
Pittsfield
Dine in, carry out
16 miles from main lodges
217.285.1336
Maya – Mexican

Great Mexican food in a nice setting
Pittsfield
Dine in, carry out
17 miles from main lodges
217.285.4526
Panda – Chinese

Pittsfield
Dine in, carry out
17 miles from main lodges
217.285.1688
Dari Ripple – Ice Cream Yum!

Pittsfield
Carry out
16 miles from main lodges
217.285.2634
Courtyard Café & Bakery

Great local café with variety menu
Pittsfield
Dine in, carry out
16 miles from main lodges
217.285.4669
Caseys

Homemade Donuts, muffins, pizza & sandwiches
Pittsfield
Carry out
16 miles from main lodges
217.285.1986
Straight Home Bar & Grill

Great food, reasonable prices. Steak night Friday & Saturday
Hardin
Dine in, carry out
28 miles from main lodges (Closer from Heavenly View Cabin)
618.576.2761
Mel's River Dock

Wonderful BBQ, Catfish Fritters, and Other Food
Hardin
Dine in, carry out
28 miles from main lodges (Closer from Heavenly View Cabin)
618.576.2362