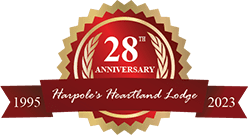 Girls Getaway Weekend Ideas
Join us on one of our Amazing Girls' Getaways Weekends>>
Where to get away for a girls' getaway weekend? Harpole's Heartland Lodge & Resort is the perfect place for you and your girlfriends next getaway destination! Located in the scenic rolling hills of southern Pike County Illinois, the lodge provides all the luxury of a 5-star resort with the ambiance and warmth of a bed and breakfast. Our resort sits on the bluffs of the Mississippi River overlooking the scenic river valley and the Missouri hills, providing a breathtaking backdrop for your next Girls' Weekend Getaway.
Sign up for our Girls' Getaway emails to be the FIRST to know about dates, activities, and promotions!
Whether you are celebrating a special event or just looking to unwind with some girlfriends, Heartland is the perfect place for a great time. Heartland is ideal for book clubs, scrapbooking events, bachelorette parties, bridal or baby showers, birthdays, and just about any other reason to have a lady's weekend. You can also join us on one of our Amazing Girls' Getaways Weekends>>
The moment you enter Heartland Lodge, you will be captivated by our beautiful, natural resort setting. All areas of the Lodge feature inspired decor, including the accommodations – each with their own theme. Hardwood floors are featured throughout Heartland Lodge, so bring a pair of plush socks or house slippers and you'll feel right at home!
Accommodations include several room options for you to choose from – anything from a regular room with two extra-long twin beds (sleeps 2) to the Whitetail Suite in the Original Lodge (sleeps 2) to a Luxury Suite with a king-size canopy bed and daybed in the Prairie Ridge Lodge (sleeps 2-4) to all the unique suites and rooms in the Sunset Valley Lodge to a private cabin at Heavenly View. (All of our lodges and cabins can be booked privately for your group.) No matter which room you select, all of our beds are triple-sheeted with the highest quality linens to make you feel like a queen. Each room also includes a private bath, and if you choose to stay in one of our suites, your room will feature a Whirlpool tub! Most of these rooms also have fireplaces!
All three of our lodges feature covered porches with Amish-crafted Adirondack chairs for your comfort. For those guests staying in a suite, your room features private access to the outside deck, perfect for enjoying the view.
No matter how you like to unwind, Heartland offers numerous options for you to enjoy while you are away with the girlfriends.
Enjoy the scenic trails that surround the resort on a horseback ride. Our horses are part of our family. Willie, Josie, Rocket, Roy and Vegas will be happy to show you around. If you are looking for a little more adventure, an ATV is a great way to explore our hundreds of acres, which include native prairie grasses, historic timber and creeks.
Test your shooting skills on our 15 station sporting clays course. Beginners and experienced shooters are both welcome and will enjoy shooting on our stimulating course.
You can also enjoy our famous hayride! Take a trip along the Mississippi River bluffs and see all kinds of wildlife, including deer, turkey and the most scenic river valley view in the Midwest! Enjoy the breathtaking sunset across the river in the Missouri hills (weather permitting.) After the hayride, a bonfire will be waiting for you with a basket of goodies to make s'mores!
Do you and your girlfriends enjoy shopping? Pike County is home to plenty of shops and antique stores within a short drive of the resort. As you are driving around, stop and enjoy the wineries!
After a full day of fun with the girlfriends, enjoy a massage, pedicure or manicure (or all three!). Heartland can arrange for this right in your room! (Reservations must be made in advance.)
The simplest, and in our opinion, the most enjoyable dining option for your girls getaway is right here at the lodge. Add the meal package to your room reservation and enjoy a savory brunch and dinner – all made from scratch. Guests enjoy such entrees as country ham, roast, pork chops or Cornish game hens, along with sides of gourmet mashed potatoes and corn casserole. Begin and end your meal with homemade bread and desserts! Relax in the Great Room while waiting for the dinner bell to ring and you will enjoy the tantalizing aromas of home cooking wafting from the kitchen. And don't worry if you can't make it to dinner on Friday night – Heartland offers a meal plan discount to accommodate those of you who will be traveling and arriving later.
If you like connecting with nature, there is something to enjoy during each season. Stay with us in the winter, when the fireplaces are crackling and the lodge feeling is at its best. Curl up with your favorite book or take a relaxing soak in a Whirlpool on a snowy winter afternoon. Find fresh morels and smell blooming flowers on a sunny spring day. Pick ripe blackberries and watch the butterflies abound on a summer morning, or visit in the fall when the colorful leaves draw people from hundreds of miles. Heartland Lodge offers a unique sensory experience for every season of the year!
If you are looking for the perfect girls getaway, look no further than Harpole's Heartland Lodge. From rest and relaxation to adventure and luxury, we have it all waiting for you right here at the Lodge. Give us a call to plan your next girlfriends' vacation!