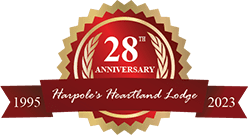 Resort Q&A
Where are you located?
We are located in Pike County, Illinois. Scenic Pike County is in West Central Illinois in-between the Mississippi and Illinois Rivers. We are 80 miles northeast of St. Louis, MO, 78 miles southwest of Springfield, IL; 50 miles southeast of Quincy, IL and about 4 1/2 hours from Chicago. For a map or driving directions, please visit our Directions Page. (We do not have any other locations.)
When is the best time to visit?
Anytime of the year is a good time to visit. Many of our guests make it a point to come at least once during all four seasons. Winter can be one of the most enjoyable times to be at the resort. Fireplaces are going and the coziness of each lodge/cabin makes it a special time of the year. We leave all our Christmas decorations up until the end of January for our guests to enjoy and our winter white lights stay up until spring. Spring is a special time with the beauty of nature coming back to life as the trees and flowers blooming. Summer is popular with vacations and all the the things there is to do at the resort along with local attractions within a short drive. Fall is beautiful with leaves changing and a great time to enjoy our scenic hayride and bonfire.
Tips for Making Online Reservations
1) In the first step under "Guests" option, only choose the number of guests per room. If booking Heavenly View Cabin choose the total number of people staying in the cabin.
2) When booking more than one room and people, add the additional rooms & people during step four. Click on the Book another Room tab in lower left corner.
3) When booking multiple rooms the meals and activities packages are picked separately for each room reservation. 4) If booking weekday (lower) and weekend (higher) the rate will be the average of both rates.
5) To view Heavenly View availability two nights must be chosen.
What is the most romantic room at the resort?
We have several rooms that are very romantic and equally popular with our guests. The Grand View Suite, All About the View Suite and Sunset View Suite in the Sunset Valley Lodge are all very romantic. The Luxury Suites in the Prairie Ridge Lodge are very romantic and popular. The first romantic suite called the Whitetail Suite, in the Original Lodge, is very romantic, cozy and a favorite among many of guests who started staying when we first opened.
Can only one or two rooms be booked in a lodge?
Yes, in the Original Lodge, Prairie Ridge Lodge and Sunset Valley lodge you can book 1 – 13 rooms. Our Heavenly View cabin is booked by the entire cabin only. Two people can book the Heavenly View cabin and have it private to themselves.
Can the lodges or cabins be privately booked?
Yes, all of our lodges and cabins can be privately booked. Sunset Valley Lodge and Prairie Ridge Lodge require all seven of their rooms to be booked to have them private. Heavenly View Cabin can be booked private with just one room (We only book Heavenly View by the cabin.) The Original Lodge can be booked private with 10 of the 13 rooms. If only booking 10 rooms in the Original Lodge, you will not have access to the last 3 rooms. There is an additional charge for using the last 3 rooms. Pricing for all lodges is based on double occupancy. There is an extra charge for additional people, including children.
What is there to do at the resort?
One of the nicest activities is doing nothing at all! Enjoy relaxing on our porches, in front of the fireplace, or around the bonfire. No phones, no traffic, just you enjoying nature and the beautiful outdoors. If you are looking for a little more adventure, you can enjoy the Activities offered at the lodge, take in the many Local Attractions for more things to do.
Can I bring my own ATV or UTV?
Yes. This has become very popular with our guests. If you are just coming for the day to ride, it is $39 each ATV/UTV. If you are lodging with us, it only $15 each ATV/UTV per day ($20 savings each day!). Our new OHV (Off Highway Vehicle) park is accessible from the original ATV park. You will also need a Illinois OHV sticker. The OHV sticker is $11 for residents and $18 for nonresidents and good for a full year (Expiring March 31st). Pricing is per ATV/UTV–not per person (no charge for passengers). For more answers to ATV questions go to our ATV FAQ Page.
What are check-in and check-out times?
Check-in is after 3:00 p.m. and check-out is before 11:00 a.m. You can arrive earlier and leave later if you would like to enjoy activities. We just ask that you check out of your room by 11:00 a.m. so we can get it cleaned for the next guests.
What days of the week are you open?
We are open seven days a week! The only days we are closed are Christmas Eve and Christmas day.
What dates are you open for resort guests?
We are open all year to resort guests. Sunset Valley Lodge and Heavenly View Cabin are open January – December to resort guests. The Original Lodge is open January – September to resort guests. Prairie Ridge is only closed to resort guests during November. Please check with us for activities offered after the third weekend in October.
What is your deposit & cancellation policy?
Deposit Policy – Full payment of your stay is due when making your reservations.

Cancellation Policy – Due to the nature of our business, we ask for a 30-day cancellation notice (60-day for lodge buyouts). A processing fee of 10% of your total booking will be charged when cancelling. Cancellations without 30 days (60 days for lodge buyouts) will not be refunded. If someone in your original booking party does not show, you will be charged the full amount. These policies help us provide you with better service. We strongly recommend purchasing travel insurance to cover any financial loses.
What times are activities available and do you have to be a guest at the lodge?
Our activities normally start at 10:00 am and the last one starts at 4:00 pm (ending by 5:00). We start the activities on the hour. Please arrive at least 30 minutes before your scheduled time to sign the rules and waiver forms. If you have never been to our resort allow an extra 30 minutes to find it. You don't have to stay at the resort to enjoy our activities.
Do you do weddings?
s, weddings are very popular at the resort, learn more on our Weddings Page.
What rooms are good for families with children?
The Angler room in the Original Lodge, Luxury Suites in Prairie Ridge Lodge, All About the View Suite at Sunset Valley Lodge and the Heavenly View cabin are all good for families.
Why do we charge for children?
There are a couple reasons. The lodges are very nice and young children do the most damages to them. Also we have a limited amount of space available for guests in our dining hall and hayride. We love children and they are welcome.
What does the room only rate include?
This rate only includes overnight accommodations and access to our property. (Hayride, smores, etc are not included.)
Do we have a restaurant?
We offer meals for guests staying at our three lodges and must be reserved in advance. At this time we do not offer meals to the general public or to our Heavenly View Cabin guest as our dinning space is limited.
Can we cook our own meals?
Yes, if you are staying at the Heavenly View Cabin, Sunset Valley Lodge or The Original Lodge you are welcome to cook your own meals. All three have kitchens. This works best when you have bought out the entire lodge or cabin.
Can we come for a tour?
Yes, but tours need to be scheduled in advance. We only offer tours for those looking to make reservations.
I have physical limitations, can I stay at your resort?
Yes, you can. All of our lodges and cabins have handicap accessible bedrooms. All of our lodges and cabins do have steps though, some leading to bedrooms. If you have physical limitations please call us in advance to arrange the best room or lodge for your stay.
Do guests need to bring towels and their own linens?
No, we provide them at all our lodges and cabins.
Do we offer any type of discounts?
When booking online line you will save on Sunday through Thursday stays along with all days during the winter (January & February). We do not currently offer only other type of discounts such as AAA or AARP, etc.
Do you have a swimming pool?
No, at this time we do not. There is a really nice water park called Raging Rivers about 49 miles away along with a nice public pool in Pleasant Hill, Illinois about 6 miles away.
What does the meals and limited activities package include?
This package includes your dinner meal upon arrival, a scenic one hour hay-ride (in season), bonfire with marshmallows and smores, brunch, ATV day pass to the original ATV park.
What rooms have private baths?
All of our rooms have private baths besides the Pintail and Bear Creek rooms. These rooms share a bath. If you only want the Pintail room we will not book the Bear Creek room with other guests.
Do you allow pets?
Not inside the lodges/cabins. We have outdoor kennels next to The Original Lodge and Prairie Ridge Lodge that can be rented. If your dog is not use to being in a kennel we ask that you leave your dog at home or let them sleep in your car. A barking dog at night can disturb other guests.
Do we sell alcohol?
No, but you are welcome to bring your own.
Do we have barbecue grills?
All of our lodges & cabins (besides Prairie Ridge) have barbecue grills. Some have gas grills while others have charcoal.