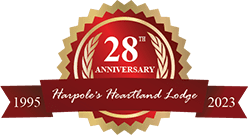 Corporate Retreats for Illinois, Missouri & Midwest
---
August 8th, 2023 Corporate Retreat Update- "If you are searching for a corporate retreat for this fall or 2024, now is the best time to lock-in your dates! We have seen an increased demand for corporate/ executive retreats following the "Covid Boom Era". Please give us a call at 217-734-2526 with any questions regarding your retreat today! You will be hard-pressed to find a better retreat location in the Midwest with as many activities and luxury amenities we have to offer. Your co-workers will thank you!"
If you are looking for unique business conference centers with corporate retreat and team building ideas, consider Heartland Lodge's conference facilities. With packages for two to seventy-five guests, Heartland Lodge is prepared to accommodate corporate retreats of all kinds. Individual conference facilities and conference rooms with full services are available. For a small group, you can buyout one of our lodges; two or three lodges can be booked for medium-sized groups; and all three lodges and luxury cabins can be yours for larger group retreats.
During your complete buyout, you will have our staff and lodge(s) exclusive for your group. If you are looking for unique corporate retreat ideas, this is it! Heartland Lodge is one of the nicest business conference centers in Illinois, Missouri and the entire Midwest. Our resort is less than 2 hours from Saint Louis, MO and 4 1/2 hours from Chicago, IL.
100% Money Back Guarantee
Unique Corporate Retreat Venue
Team Building Activities (UTV rentals, Paintball, Horse Trail Rides, Sporting Clays Course, Pistol Range, Bonfires, Fishing, Hunting Packages and More!!)
Full Conference Center
Low Weekday Rates
Gourmet Meal Plans- Homecooked Daily!
***Featured Corporate Retreat Lodge of the Month***
Sunset Valley Lodge – There are seven unique suites and rooms available at the Sunset Valley corporate retreat lodge. All of the rooms feature an ultra-comfy, triple-sheeted bed and have been furnished with hand-made Old Hickory furniture. Five of these rooms, including The Grand Suite and All About The View Suite, offer an amazing view of the sunset over the Mississippi River bluffs. The private bath of The Grand Suite features a large two-person shower and sauna while three of the suites feature private Whirlpools, all with the same amazing view of the river valley! This lodge is a perfect corporate retreat location! It offers complete seclusion, a jaw dropping view from the back porch with a great executive lounge area.
For more information on the additional highlights of each suite or room, visit our Sunset Valley Lodge page.
---
"Incredible facility and staff. The finest lodge I have ever stayed in. A great value!"
– Brian Payne, John Deere
"We have found that off-site gatherings are a great way to break down barriers and begin the planning process for the kind of change that ultimately revolutionizes a culture. When people are removed from daily routines and placed in an atmosphere that encourages free expression of their dreams, amazing ideas begin to emerge and flourish." –The Disney Way

---