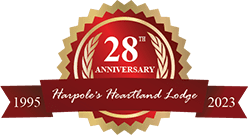 Hannibal, MO Top Vacation Ideas
Hannibal is home to many artists and artisans and a "famous writer" named Samuel Clemens. Hannibal is a community alive and well today as a thriving regional center nestled on the banks of the Mighty Mississippi. Historic homes, artisans and artists, museums, gift shops, and a thriving downtown area can all be found here in "America's Hometown", better known as Hannibal. There are also numerous attractions dedicated to Mark Twain and his legacy, including Twain's boyhood home.
Hannibal is a charming hamlet that maintains the past while appealing to those of the present. Come to this friendly riverside town any time of year, you'll find something for everyone; an active arts community, tons of special events, theater, artwork, cave explorations, antiques, and plenty of good ole fashioned food. Take a moment to enjoy the natural beauty as well and sit along the river and enjoy the views from Riverview Park and Lover's Leap.
Did you know, Heartland Lodge offers Mississippi River Tours? Explore the same backwaters Mark Twain did! More information here >>
1) Mark Twain Boyhood Home & Museum 
Explore the roots of Twain's genius as you discover how a young boy from a small river town became America's most beloved author and humorist. Tour six historic properties and museums – See the Mark Twain Boyhood Home, a National Historic Landmark, the newly reopened Becky Thatcher House, Huckleberry Finn House, J.M. Clemens Justice of the Peace Office, Museum Gallery and Interpretive Center for one ticket price.  The Mark Twain Museum offers something for everyone in the family. More Information>>
2) Mark Twain Cave
Take a guided one-hour tour of the cave. This cave is family-friendly because it is smooth with no steps. Cameron Cave (second cave) is an hour and twenty-minute tour and is much like it was when it was first discovered. On the Mark Twain Cave Complex, there is an amazing, handcrafted candle shop where you can watch the craftsman make candles. If you wish, your children can also learn how to make and decorate their own candles. You may also want to check out the performance of Jim Waddell as Mark Twain. This performance will remind and inspire you of some of the work that Mark Twain completed. (See web site for times and dates.) http://www.marktwaincave.com/
3) Mark Twain Riverboat
See Hannibal from the Mighty Mississippi while you listen to stories, some true and others just legends, about the surrounding area. marktwainriverboat.com
4) Rockcliffe Mansion
Tour the beautiful mansion built in the early 1900's that overlooks the Mighty Mississippi. www.rockcliffemansion.com/
5) Sawyer's Creek Fun Park
Fun for the whole family, there are games and activities – and some that may even get you a little wet. There is shopping for everyone…a sweets shop, a wine shop and even a Christmas shop open all year around. You won't go hungry here with a restaurant full of amazing views of the Mississippi. http://sawyerscreek.com/
6) Molly Brown Museum
Visit the birthplace of the famous Molly Brown, survivor of the Titanic.  http://www.visitmollybrown.com/
7) Great Shopping
You will absolutely love the downtown shopping area with all its quaint shops!! https://www.visithannibal.com/shopping/
8) Lover's Leap
Take in the breath-taking view high above the river bluffs overlooking the mighty Mississippi River and the town of Hannibal. South of Hannibal on Hwy 79 along with other outdoor recreation https://www.visithannibal.com/attractions/outdoor-recreation/
9) Bluff City Theater and live Mark Twain Performances
Enjoy Live Mark Twain Performances! https://www.visithannibal.com/attractions/theaters-performances/
10) Hannibal Hoots 
Go watch a baseball game in the historic Samuel Clemens Field. This summer-collegiate wood-bat team will take you back to the days of why baseball is called the "American Pastime". 

11) Hannibal Trolley Company Sightseeing Tours
Want to see it all but afraid you don't have enough time? Well then ride around Hannibal on the trolley and experience it all! 220 N. Main; 573-221-1161 or click here for more information.
12) Events and Festivals
Enjoy one of the many events and festivals that are held in Hannibal https://www.visithannibal.com/events-festivals/
There are many other attractions like Haunted Hannibal Ghost Tours and Karlocks Kars & Pop Culture.  Visit https://www.visithannibal.com/ 
Please contact each location directly to check on hours of operation and directions.