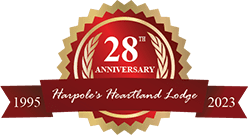 Mississippi Guided River Tour Excursions!
River Tour Excursions!

Our newest attraction at the lodge this summer is our Mississippi River Tour Excursions! Enjoy a half or full day scenic river tour with our experienced boat captain that knows the historic river like "the back of his hand"! Enjoy the same river channels Tom Sawyer and Huckleberry Finn explored!
During your excursion, not only will you come across several landmarks such as the Lock and Dam, but you'll also see a wide variety and abundant wildlife population in and above the water! You can see river otters, beavers, muskrats, and several different songbirds such as the purple martin, oriole, belted kingfisher, indigo buntings, downy woodpeckers, the great blue heron, ducks and geese along with several prey species! Bald eagles are a common site along the riverbanks! Make sure to bring your camera along!
The Mississippi is typically very calm, making for a comfortable boat ride. Even on the hottest summer days, a cruise on the river will cool you down!
We also offer guided catfishing trips as well! This is a great way to combine a river cruise and fishing at the same time! For more information on our Fishing Trips, Click Here >>
View River Tour Excursion Pictures Here >>
---
Romantic Sunset River Cruise Package

Our Sunset River Cruise is a one-of-a-kind experience that you and your partner will not soon forget! The late evening hours along the Mississippi River are simply stunning- like something straight out of a romantic Hallmark Movie! Once the sun starts to set below the tree line, the sun rays reflect off the muddy water's surface and light haze caused by the dropping temperatures, creating a truly unique iridescent light phenomenon! A mix of red, yellows and orange fill the sky.
While you're taking in the panoramic sunset views, enjoy our freshly prepared romantic basket with fresh fruit, cubed cheese, monster cookie and non-alcoholic juice in our souvenir wine glasses!
To book a romantic sunset cruise, please give the lodge a call at 217-734-2526 or Email- Office@HeartlandLodge.com for more information!
Romantic River Cruise Package for Two Rate: $460 (includes romantic food basket & souvenir wine glasses. -basket not included.)
---
River Tour Excursion Rates
$200/each – Half Day (4 Hours) – $400 Minimum
$400/each – Full Day (8 Hours) – $800 Minimum
3 Maximum Number of Guests
14 and under $50 half day / $100 full day with two paying adults.
*For full day river tours, you can provide your own lunch, or the lodge will make you a sack lunch for $25/ each. Includes a drink. River tours available from April to the third weekend of October.
*River cruises/ romantic sunset cruise must be reserved in advance.
To book a river tour excursion, please give the lodge a call at 217-734-2526 or Email- Office@HeartlandLodge.com for more information!
---
Items to Bring on your River Excursion
Sunscreen
Long Sleeve Shirt or Sweater (early morning/ late afternoon hours can be cool on the river)
Camera (wildlife and several historic sites along the banks!)
Drinks- Soda, bottled water & ice can be purchased at the lodge.
Binoculars
Bug Spray (while on the boat, bugs are not bad!)
Last Updated: July 28th, 2022