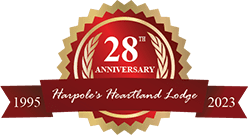 Private Romantic Luxury Cabins

Now Available!  Call 217.734.2526
 CLICK TO CALL
 BOOK NOW
Enjoy a private luxury cabin that was built with couples in mind. Located in Pike County Illinois, our resort sits on the bluffs of the Mississippi River overlooking the scenic river valley and the Missouri hills, providing a breathtaking backdrop for your next romantic getaway or vacation. Our private, romantic cabin rentals in Illinois are also the nicest luxury cabins in the Midwest.
Each romantic cabin is decorated with its own unique theme. All cabins are carefully crafted with knotty pine and cedar walls, fifteen-foot vaulted ceilings, hand-carved Old Hickory furniture, high quality fixtures and appliances.
Each cabin with hot tub (Whirlpool tub) also features a romantic fireplace, ultra comfy king-size bed, large 4K Ultra HD television with 4K Blu-ray player for next level viewing experience, relaxing private deck with barbecue grill, kitchen, sofa and private fire pit to roast marshmallows or to make your own s'mores. Aunt Bert's Cabin and Uncle Buck's Cabin also have sleeper sofas.
You won't want to leave the pleasure of these cabins but we encourage you to take time out and enjoy our different activities or sightsee at the many local attractions that are an easy drive from the resort. ATV riders are able to park their ATVs and trailers close to the cabins in our parking area.
Each cabin has a fully-equipped kitchen for those of you who enjoy cooking your own meals. Or if you prefer, you may enjoy our home made meals, dine out at one of the local restaurants or choose from our favorite meal options.
There are four private cabin rentals, all with unique names:
Aunt Bert's Cabin – View Pictures>>
Bobby's Cabin – View Pictures>>
Uncle Buck's Cabin – View Pictures>>
Gerald's Cabin- View Pictures>>
(See below for history behind the names of each cabin.)
These four cabins are located close to each other. Gerald's Cabin and Aunt Bert's Cabin are next to each other. Uncle Buck's cabin and Bobby's Cabin are next to each other and within short walking distance to the other cabins. All four of these luxury cabins are located right across the road from our Original and Prairie Ridge Lodges.
Whether you are looking for a honeymoon cabin or a cabin for your anniversary, these getaway cabins are perfect for your romantic destination. Curl up on the couch and enjoy the cozy fireplace, soak in the heart shaped two person hot tub, relax on the ultra-comfy king sized bed, take in nature and enjoy the outdoors on your private deck, or watch the stars and share stories as you sit around your own camp fire.
These private cabins have a two-night minimum stay on weekends but you will want to spend more than just two nights and enjoy a long three-day weekend or seven-day vacation. Following are the special cabin rates for 1-2 people:
Winter Rates (December – February)
| | |
| --- | --- |
| Weekday Nightly Rate (Sunday-Thursday) | $315 |
| Weekend Nightly Rate (Friday & Saturday) | $350 |
| Three-Night Weekend Rate ($75 discount) | $975 |
| Seven-Night Vacation Rate ($230 discount) | $1,995 |
| Extra Guests (Regardless of age) | $39 |
| (Three & Seven-Night reservations must be made by calling our office.) | |
Spring – Summer Rates (March – September)
| | |
| --- | --- |
| Weekday Nightly Rate (Sunday-Thursday) | $360 |
| Weekend Nightly Rate (Friday & Saturday) | $400 |
| Three-Night Weekend Rate ($75 discount) | $1,125 |
| Seven-Night Vacation Rate ($230 discount) | $2,320 |
| Extra Guests (Regardless of age) | $39 |
| (Three & Seven-Night reservations must be made by calling our office.) | |
October & November Rates
| | |
| --- | --- |
| Weekday Nightly Rate (Sunday-Thursday) | $405 |
| Weekend Nightly Rate (Friday & Saturday) | $450 |
| Three-Night Weekend Rate ($75 Discount) | $1,275 |
| Seven-Night Vacation Rate ($230 discount) | $2,645 |
| Extra Guests (Regardless of age) | $39 |
| (Three & Seven-Night reservations must be made by calling our office.) | |
CLICK TO CALL
BOOK NOW
These cabins are the perfect location for your next vacation. Enjoy all the great activities our resort has to offer along with the many local attractions. Take in all the great attractions, restaurants and events that are held in our area each year. There are many great site-seeing locations in Pike and Calhoun Counties along with the surrounding communities. Enjoy the water park in Grafton, Illinois that overlooks the Mississippi River. See where Lewis and Clark started their expedition in Hartford, Illinois. Explore where the adventures of Tom Sawyer and Huckleberry Finn took place in Hannibal, Missouri. Take a tour of the amazing Lincoln Presidential museum in Springfield, Illinois. Visit the Arch, Missouri Botanical Gardens, Six Flags and professional sporting events in St Louis. Relax and enjoy one of the wineries, pubs or take in some shopping. There is so much to do at the Heartland Lodge Resort and surrounding area!
What to Bring
Paper products, condiments, spices, food, and drinks
Soap, shampoo, paper towels, dishwasher soap, etc.
Matches and fire starter
DO NOT bring firewood. Firewood is for sale at resort.
What's Included/Miscellaneous:
High quality linens (Minimum 400 thread count) and towels
High quality pillows
4K Ultra HD television
4K Blu-ray player
Keurig and drip coffee makers
Minimum two-night stay required on weekends. (When booking online, make sure to choose at least two nights to see availability. Otherwise these cabins will not show in your search.)
Reservations for Three-Day Weekend and Seven-Day Week Packages must be made by calling our office.
The Heartland meal plan is not an option while staying in these cabins unless you book all our lodges and cabins.
Housekeeping will clean your cabin before you arrive and after you depart (not during your stay). Any excessive cleaning will be charged to the credit card on file.
No pets allowed.
Special Note: All guests need to remove their shoes in the foyer. You may bring house slippers or just wear your heavy socks while in the cabin. Our guests really enjoy this feature – it's just like home!
The name for each cabin was thought about with care and love.
Gerald's Cabin – Gerald Shonhart was the builder of our three main lodges. We promised Gerald when we/he built our private cabins, the first one would be named after him. Unfortunately, Gerald passed away several months before we began construction but his legacy of what he built here will live forever.
Aunt Bert's Cabin – Bertha Harpole is Gary Harpole's late grandmother. Her friends and family called her Aunt Bert for short. When the resort began, Bertha made scrapbooks for Gary and he enjoyed many homemade meals at her house while visiting her.
Uncle Buck's Cabin – Earnest Pruett is Gary Harpole's late grandfather on his mother's side. His friends and family called him Uncle Buck. Heartland is located next to the farm where Earnest raised his family. This farm is what helped inspire Gary to build Heartland as he always enjoyed visiting this beautiful country and he knew others would as well.
Bobby's Cabin – Bobby Pruett is Gary Harpole's late uncle that he never had the pleasure of meeting. When Bobby was a very young boy, something spooked his trusted horse on his way to school. Bobby did not survive the accident.
Deposit
Full payment of your stay is due when making your reservations.
Cancellation Policy
Due to the nature of our business, we ask for a 30-day cancellation notice for these cabin rentals. A processing fee of 10% of your total booking will be charged when cancelling. Cancellations without 30 days will not be refunded. These policies help us provide you with better service.
Please read all our policies PRIOR to making a reservation.
Harpole's Heartland Lodge strives to give our guests the best experience possible. We understand that your upcoming trip is a significant investment. We offer trip insurance through North America's leading provider of Travel Insurance called "Travel Guard".
There are many circumstances that could change your plans. Please take a few minutes to learn how you can protect yourself. If you choose to decline this valuable coverage, you are assuming any financial loss associated with a cancellation or a change in your travel arrangements.