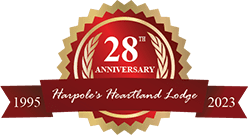 Things To Do in Illinois!
---
What is there to do when visiting Heartland lodge and West Central Illinois? We are located in the country but in the middle of everything! If you are looking for things to do in Illinois or Missouri, Heartland Lodge is in the perfect location! Located in Pike County, Illinois, the lodge is a full-service resort with fun things to do for everyone in the family! Scroll down to see all your options!
Lay Under the Stars – Our location is perfect for laying on a blanket and looking at the stars
Movie & Popcorn – Curl up and watch a movie with popcorn
Take a Hike – Enjoy the miles of scenic trails and enjoy all the nature that surrounds the resort.
Relax – Sit on the deck with your favorite beverage and experience all your stress disappear
Read a Book – Escape into that book you have been wanting to read
Fishing & Guided Fishing Trips
There are four fishing ponds located at the Heartland OHV Park and we're only 17 miles away from the 200-acre Pittsfield Lake! Rent one of our Polaris Side by Sides and fish all the ponds on the OHV Park. We also offer guided Mississippi River catfishing trips!
There isn't a better way to enjoy our beautiful rolling countryside than taking an equally relaxing and exciting ride on our Polaris rentals!
If you enjoy horseback riding and being around others who love horses, you will fall in love with Heartland Lodge's Riding Stables. You can bring your own horse too!
Heartland's fifteen-station sporting clays course is one of the finest shooting courses in the Midwest.
Our ATV park and lodges are quickly becoming a "vacation hot spot" for individuals, families and groups that are looking for a nice place to get away and have miles of trails to ride their four wheelers, UTVs and dirt bikes. Our ATV park is the largest in the state at 1,200 acres and over 60 miles of trails!
Our one hour long scenic hayride along the Mississippi River bluffs is a favorite with our guests.
Bonfire with Smores
Relax around he bonfire and enjoy some Smores!
All guests staying overnight can enjoy our outdoor pistol range for Free!
Winery & Brewery Tours – Girls' Getaway Weekends – Special ATV Weekends – Romantic Month – Couple's Weekend – Wild Berry Picking Weekend – Fourth of July Celebration – Morel Mushroom Picking Weekend
There are SOOO many great things to see and do within a day's drive of the resort. You will want to plan an extra day or week to explore all the site seeing attractions. From historic Hannibal Missouri, home of Mark Twain to Springfield Illinois, home of Abe Lincoln you will find great shopping, dining, entertainment, wineries and breweries along with great site seeing attractions. The majestic Mississippi River runs through the heart of all of these wonder day trips you can take right from the resort!
Within a short distance of Heartland Lodge you can enjoy several different private or public golf courses.
Enjoy the miles of bike routes and trails that surround Heartland Lodge, located between the Mississippi and Illinois River in scenic Pike and Calhoun County, Illinois.
The Rolling Hills of Pike & Calhoun Counties in Illinois are the perfect location for your next getaway, vacation or retreat.
Morel Mushroom Hunting (FREE When You Stay Overnight!)
In West-Central Illinois where Harpole's Heartland Lodge is located, morel mushrooms are certainly the mushrooms of choice. They are often found on the properties here during April and May. Fresh morels are the ultimate spring delicacy!
If you enjoy watching monster bucks in the summertime, June through September is the perfect time to observe some of the biggest whitetails in the country! The backroads around the lodge properties are filled with whitetails!
Enjoy a round of disc golf at Pittsfield Lake, only a short drive away from the main lodge. This course offers 18 holes now and is currently working on expanding. This disc golf course is known to be one of the nicest, most challenging courses in Illinois! You'll also be able to enjoy beautiful views of the 200-acre lake!
For details of things to do in Illinois, click to expand the sections below.
Heartland's backyard bird sanctuary and its 1,200 acres of bird habitat make it one of the best locations for Illinois bird watching and to view many different species of birds. The backyard sanctuary has regular visitors including Cardinals, Goldfinches, Purple Finches, woodpeckers, Bluebirds, Chickadees, and Nuthatches. Heartland's prairie restoration program consists of CRP fields of Big Blue Stem, Little Blue Stem, and Indian Grass. Millet fields are planted for ample food supply. This habitat is ideal for quail, pheasants, turkeys, and other native birds.
Eagle Watching at Heartland Lodge
Eagle watching is at its peak from mid-January thru mid-March. The prime eagle watching destinations are only a short drive away! Great dining, wonderful wildlife viewing, and scenic views are all within a day's drive from the lodge. A great day trip is driving to Clarksville, MO and through the small towns on the Great River Road and National Scenic Byway of Highway 79. You can cross the Mississippi River on one of the ferries to the Great River Road in Illinois. Enjoy Grafton, IL and travel back to the lodge on the beautiful National Scenic Byway. Eagles are commonly seen around lodge too! The lodge is right in between the Mississippi and Illinois river corridors, perfect habitat for migrating eagles.
Raging Rivers Water Park – Pool and water park for everyone. Featuring: The Shark, SwirlPool, Endless River, The Cascades, Breaker Beach, Runaway Rafts, Tree House Harbor, Itty Bitty Surf City. Only 50 miles from the lodge! A great place for the entire family. (www.ragingrivers.com)
The cooks at Heartland Lodge prepare dinner and breakfast meals made from scratch. Homemade rolls, real mashed potatoes and old-fashioned cobblers are just a few of their specialties. Heartland is known world-wide for its presentation and abundance of food at each meal setting. (meals must be reserved in advance, please call 217-734-2526 to add the meal plan to your reservation!)
Also included in the meal package are complimentary coffee, tea and lemonade! The 1,200 acres that surrounds the lodge will give you plenty of room to explore and relax in the outdoors. All of this is included in your package when you stay at Heartland.
The bonfire pit is behind the Original Lodge. If you are staying at the Original Lodge or Prairie Ridge Lodge and would like a bonfire, please let us know when you make your reservation or by 4 PM the day you are staying.
Enjoy an entire lodge to yourself. Just book ten rooms in The Original Lodge, seven rooms in Prairie Ridge Lodge, seven rooms in Sunset Valley Lodge or just one room in the Heavenly View Cabin and you can have any of them yourself. The resort is a perfect place to meet with friends and family. Weddings and business outings are also popular at our Midwest resort.
There are many great day trips that can be enjoyed with Heartland Lodge as your starting point.
Visit our Vacation Page & for the top things to do in each surrounding town. There is ALOT to do within an hour's drive of the lodge!!
The Great River Road Trip – Spend the day up and down both sides of the Mississippi River. The Great River Road and National Scenic Byway on the Illinois side and the Great River Road and National Scenic Byway on the Missouri side make an outstanding day trip. You will travel through towns like Clarksville, MO and Grafton, IL. You can cross the Golden Eagle ferry or the bridges in Alton, IL and Louisiana, MO. Attractions: Clarksville Eagle Center, Alton's National Great Rivers Museum, Kampsville's Center for American Archeology, antique stores, craft stores, and much more! (Mid-January thru mid-March are peak eagle watching times.)
In 1998, the federal government evaluated dozens of drives around America in search for candidates for National Scenic Byway designation. After a painstaking process, the Illinois Great River Road from Alton to Kampsville was awarded this rare and honored designation. The drive is stunning, with the towering bluffs on one side and the Mighty Mississippi on the other. You can almost touch the cliff-wall and the water at the same time. (57 miles)
Hannibal, Missouri – Mark Twain – Enjoy a day trip to the historic home town of Mark Twain. Hannibal is only 45 miles from the lodge. Great shopping, excellent dining and wonderful sight seeing is all located in Hannibal. Attractions: Mark Twain Boyhood Home & Museum, Becky Thatcher Home, Mark Twain Cave, Mississippi Riverboat, Molly Brown Birthplace, antique stores, craft stores, and much more!
(https://www.visithannibal.com)
Springfield, Illinois – Enjoy a day trip to the historic home town of Abraham Lincoln. Springfield is only 80 miles from the lodge. Besides all of the historic sights, there is wonderful shopping and excellent dining. Attractions: Lincoln's New Salem, Lincoln Home, Lincoln-Herndon Law Offices, Lincoln Tomb, Vachel Lindsay Home, Route 66 sites and much more!
(www.visitspringfieldillinois.com/)
Quincy, Illinois – Enjoy a day trip to the beautiful town of Quincy. Quincy is located only 50 miles from the lodge. This town is full of wonderful shopping and great dining. Make sure you take a drive down Maine street to view the large historic homes. Attractions: Jesus Tree, Governor John Wood Mansion, Villa Kathrine, Quincy Art Center and much more!
(seequincy.com)
Pike County – The county that the lodge is located in has many local attractions. There are antique shops and great attractions in Pike County. Attractions: Nature House Gallery, the "Purple Martin Capital", local museums, antique shops, craft stores, and scenic drives that will keep you going for hours!
(www.pikeil.org)
Other Possible Day Trips
St Louis, Missouri: Cardinals, Blues, Fox Theater, Science Center, Six Flags, Arch, Missouri Botanical Gardens, shopping and much more! (80 miles)
Mark Twain Lake: Great fishing, boating, jet skies, and swimming. (80 miles)
Raging Rivers Water Park: Pool and water park for everyone (30 miles – www.ragingrivers.com)
Historic Nauvoo: Historic architecture, historic crafts, The Joseph Smith Historic Center, Historic Nauvoo sites, Baxter's Village, fine restaurants, gift & antique shops, fudge factory and much more. (95 miles- www.historicnauvoo.net)
Hiking

Paintball (15 person min. Please call 217-734-2526 for more details)

Volleyball

Croquet

Sled riding (In season)

Mushroom hunting (In season)

Blackberries (In season)

Shed hunting (In Season)