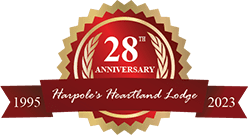 Bike Riding Trails in Illinois
If you enjoy bicycling, you will be right at home at Heartland Lodge & Resort. Enjoy the miles of bike routes and trails that surround Heartland Lodge, located between the Mississippi and Illinois River in scenic Pike and Calhoun County, Illinois. Join us for some great bike riding in one of the most scenic locations in the state!
Explore the country roads that surround Harpole's Heartland Lodge. Over the past several years, most of these unique roads have been made into hard surface routes, providing ideal bike trails for the beginner and advanced cyclist alike.
The endless amount of bike riding routes makes Heartland an ideal location to train for your next cycling, biathlon, triathlon, or running event.
"The bike rides were wonderful. There are roads for all groups and distances."
Todd & Kelly Klauser
Quincy Multi Spots Club
Heartland is located along The Mississippi River Trail (MRT). Many bicyclists who journey down this route choose Heartland as one of their overnight stops. Our resort is only 2 miles off this National Scenic Byway. The Governors' sponsored Illinois bike ride traveled this route and used our resort as one of their unique stopping points.
Heartland Lodge is only 44 miles from the cycling route of the Lewis and Clark Trail. We are located on the Calhoun and Pike County, Illinois line. The beginning of the Lewis and Clark Trial starts in Hartford Illinois (71 miles) and travels through Calhoun County crossing the Brussels and Golden Eagle Ferries (44 miles).
If you are an off-road bicyclist and enjoy using your Mountain Bike, the trails on the property will provide you with the challenge you are looking for. The rolling hills in this area provide a challenge for even the most experienced bike riders.