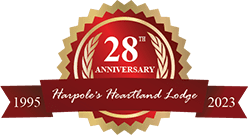 Illinois Bed & Breakfast

Heartland Lodge is the perfect place for that escape that you have been waiting for.
This central Illinois bed and breakfast has become a national and international attraction, stealing the hearts of guests from across the globe. Once you step into the luxurious comfort of this incredible facility, you will understand why guests return again and again. We have even been selected Illinois top romantic destination for couples! Romantic Illinois vacation getaways begin here at Heartland Lodge.
Central Illinois Bed & Breakfast
A unique ambiance will permeate your senses when you step through the door of this Illinois bed and breakfast. As soon as you slip off your shoes to glide over the gleaming solid oak floors of the dining room toward the Great Room, you'll notice the delicious aroma of "Grandma's" cooking wafting through the air. Other Illinois bed and breakfasts offer you a bagel or a muffin for breakfast, but here you get a hearty, home-cooked meal to start your day off right. As you marvel at the two-story stone fireplace, the Remington statues, the inviting sofas and chairs, and gaze out the floor-to-ceiling windows, you'll catch a glimpse of the hundreds of yellow finches nesting in the trees around the lodge. The temptation to step out onto the large back deck is irresistible. Here is where you begin to understand what really sets Heartland Lodge apart.
Fresh air washes over you as you sink into one of the Amish crafted rocking chairs. The blessed sound of silence that envelopes the countryside is broken only by the occasional bird song. Stepping back inside, you're escorted to your room. You'll quickly discover that the rooms in this Illinois bed and breakfast are named and completed with matching decor. Illinois hotels may tolerate room numbers, but here, every room has its own unique character. They do have a few things in common: private bathrooms, thick towels, comfortable beds, ceiling fans and absolute cleanliness.
An incredible sense of well-being will invade your soul as you feel the stress drain out of your body and reality sink in – you'll be enveloped in luxury, with all of nature's beauty just outside the door.
Click the sections below for more information.