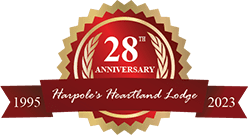 Pike County Illinois Hunting
If you are a serious hunter, Pike County Illinois will probably be familiar to you as one of the best places in North America to hunt. Located in-between the Mississippi and Illinois Rivers this area offers fertile grounds and ideal habitat for wildlife to maximize their full potential. Pike County is one of the leading counties in the country each year with record book bucks. This area has a long tradition of excellent upland hunting as well.
The owner, Gary Harpole grew up deer and upland hunting in some of the same woods and fields our hunters enjoy today. Located on the Mississippi and Illinois flyways provides some of the best waterfowl hunting in the country. One the favorite among the guides is spring turkey hunting. Plenty of large vocal Eastern turkeys provides for action all spring.
Your stay with us is more than a hunt. It's part of a strong hunting tradition that started back when Heartland's owner Gary Harpole was a child. Each year new traditions are being created by our guests. It's our hope that you create your own memories at Heartland with your family or friends and carry on a tradition that started many years ago.