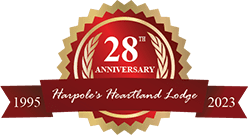 September Upland Hunting Promotions!
Now is the time to book your September Upland Hunt! Our schedule is filling in quickly, give us a call at 217-734-2526 to reserve your hunt!
September is an incredible time to experience the phenomenal wingshooting opportunities that Harpole's Heartland Lodge has to offer. The first signs of fall tout its arrival as the gently rolling farmland around the lodge turns into a mosaic of beautiful yellows, oranges and reds. Our guides and dogs have conditioned and trained all summer for "opening day" and anxiously await for the first hunt of the year. Hunting the early season offers comfortable hunting conditions, more wild birds than any other part of the season and a variety of exciting wingshooting action.
Take advantage of our September upland hunting promotions below! Rates are for a LIMITED TIME ONLY!!
| | | | |
| --- | --- | --- | --- |
| Regular Hunts | Regular | Promotion Rate | Savings |
| Four Night/Three Day | $3,630 | $3,000 | $630 |
| Three Night/Two Day | $2,460 | $2,040 | $420 |
| Two Night/One Day | $1,290 | $1,075 | $215 |
| One Night/ One Day | $1,170 | $960 | $210 |
| Daily Includes Lunch | $1,055 | $845 | $210 |
| | | | |
| Premium Upland Hunts | Regular | Promotion Rate | Savings |
| Four Night/Three Day | $3,930 | $3,300 | $630 |
| Three Night/Two Day | $2,660 | $2,240 | $420 |
| Two Night/One Day | $1,390 | $1,175 | $215 |
| One Night/ One Day | $1,270 | $1,060 | $210 |
| Daily Includes Lunch | $1,155 | $945 | $210 |
The average daytime highs for the month of September are in the 70's and overnight lows are typically in the 50's. These temperatures are ideal for our early morning and afternoon upland hunts. Typically, on the morning hunt, you can count on a wet dew on the prairie grasses. Even though we mow walking strips along our milo and sorghum food plots, we still recommend wearing waterproof or water-resistant boots.
On a typical morning or afternoon hunt, you can expect to walk a mile or two over gently rolling or mostly flat, "dry" terrain. We recommend bringing several lighter layers of clothing for your hunt. Moisture wicking material or cotton works just fine for those warmer days (we offer a selection of Orvis upland gear in our pro-shop at the lodge). A typical day at the lodge starts off with a homecooked breakfast served at 8 A.M. at the Prairie Ridge Lodge dining hall. You'll enjoy a hearty breakfast served family-style with your hunting party and other upland hunters. Immediately after breakfast, you'll meet with your upland guide and head to the upland fields. We have multiple different upland farms but the furthest is about 15 minutes away.
Once we're in the fields, we'll make about a 45 minute to an hour round and circle back to the truck to refresh ourselves with a water or sports drink, unload birds and change out dogs. After our break we'll head back out to the fields for another hour or so before heading back to the lodge for lunch. After lunch, we'll give you some time to relax, settle your food, and enjoy socializing and swapping stories with Gary and other hunters before heading back out for the afternoon hunt. We'll have you back in time before supper which will be served at 6.
Early Season Upland Hunting Strategy
During the early season, quail and pheasants will still be fairly dispersed throughout the countryside as food sources and suitable cover for birds is still aplenty. Ditches, water ways and small streams adjacent to our milo/ sorghum food plots create a thriving habitat of seeds and small insects.
"Cast & Blast" Package
If you enjoy fishing as well as upland hunting, we have 4 ponds that have a variety of fish species including largemouth bass (8 pounders have been caught!!), crappie, bluegill and channel catfish! To access the fishing ponds, you will need to rent one of our side by sides (see rental information below). With the UTV rental, you will have full access to 1,200 acres of the beautiful ATV park as well! For more information about fishing at the lodge, Click Here >>.
**NEW GETAWAY PACKAGE**
Guided Mississippi River Catfish Trips- This new excursion pairs perfectly with a half-day of upland hunting in the early season! Enjoy fishing trophy catfish on the majestic Mississippi just like Tom Sawyer and Huck Finn! We offer guided catfishing trips from March to the third weekend in October. For more information on our guided fishing, Click Here >>.
**If you are planning on doing full-day upland hunts, we recommend you take advantage of our fishing opportunities on the day of your arrival or day of your departure.
Polaris Side x Side Rentals
Heartland Lodge offers side by side rentals (UTV) at our ATV riding park. There isn't a better way to enjoy our beautiful rolling countryside than taking an equally relaxing and exciting ride on our rental side by side! You can spend hours riding the main trail that goes throughout the ATV riding park. We have several miles of trails on our main ATV park open for our rentals. All of our rental units are automatic and easy to operate. There are plenty of riding trails for the beginners and inexperienced ATV riders to enjoy. For more information, please visit our UTV Rentals page.
We also offer horseback riding and plenty of trails for hiking. To view the full list of activities we offer here at the lodge, Click Here>>
If you are a History Buff, you probably already know that Illinois and our area specifically has strong ties to Abraham Lincoln. Our local town, Pittsfield has several historical sites and Springfield (about an hour away) has a Lincoln Museum that is defiantly worth checking out on your way into the lodge or during your stay.
During the month of September, several of our small towns and communities hold their town festivals. For more information on local attractions and special events click here>>
Last Updated: August 23rd, 2023