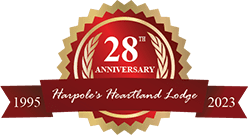 Family Holiday Upland Hunting Package
Start your next family holiday tradition this season at Heartland Lodge! This year we are offering our "Family Holiday Upland/ Waterfowl Combo Hunt Package"! There's no better way to experience a Midwestern Thanksgiving, Christmas or New Year's than at the lodge! Bring home delicious upland game and waterfowl to your next family holiday get-together. I can always remember growing up as a kid, my grandpa insisted we needed to harvest a goose for Christmas dinner!
Now you can step back in time and give your kids the experience you might have had growing up around the holidays. Spending a day in the field like it was done when you were a child will give them and you memories that will last a lifetime. You can start your own annual family hunting tradition and watch it continue with your grandchildren. You can bring the entire family and start an annual tradition! Holidays at the lodge!
In this Holiday Hunting Package, you will be able to experience a wide variety of wingshooting. Upland hunt half of the day with the finest bird dogs in the country and the other half of your day will be spent in the waterfowl blind (or boat) along the legendary Mississippi Flyway hunting for Canadian/Specklebelly geese or an array of ducks with world-champion waterfowl callers!
After a long day afield, relive the hunt and relax in one of our luxury lodges or cabins next to the fireside! -You can even roast some chestnuts by the fire 😉 Our luxury accommodations, gourmet meals, and professional-friendly guides and staff create a one-of-a-kind holiday hunting retreat that will be remembered for many years to come!
**Looking for a Thanksgiving or Christmas Gift idea for the Outdoorsman in your Life? We have you covered! Purchase a Harpole's Heartland Lodge Hunting Gift Certificate Online Here >>
Scroll down to the bottom of the page to view our rates and package options. If you have any questions, please give us a call at 217-734-2526 or E-Mail Office@HeartlandLodge.com for more information!
"The hunt was perfect for a quick Father/Son getaway! Super accommodations. Expert guide in the field. Our guide (Rod) was very knowledgeable and produced ample opportunities for us to get a coat full of birds. If you are looking for a top-notch upland bird hunt…look no further…Heartland Lodge is the place!" -Jimmy Blunt
Read More Wingshooting Testimonials Here >>
Pictures of Inside the Lodges around Christmas Time >>
---
Lodging Options for your next Family Holiday Hunt!
View our rates below. Please let me know if you have any questions regarding our Holiday Hunt Packages! To inquire E-mail Gary@HeartlandLodge.com or call 217-734-2526.
Waterfowl / Upland Combo (End of Oct - End of Dec. Call for dates.)
Four night, three day hunt
$4,035
Three night, two day hunt
$2,730
Add $50/Day for Premium Upland Hunt or $100/Day for Double Premium Upland Hunt

*Gun rentals available $85 per day. Must reserve ahead of time.

* Includes guides, dogs, meals, accommodations, game cleaning, & packaging
---
Canada Goose / Upland Combo (End of Dec. - Jan 31 )
Two Hunters Minimum: Four night, three day hunt
$2,950/each
Two Hunters Minimum: Three night, two day hunt
$2,000/each
Two Hunters Minimum: Two night, one day hunt
$1,060/each
Two Hunters Minimum: One night, one day hunt
$945/each
Gun Rentals Available $85 per day. Must reserve ahead of time.
Add $50/Day for Premium Upland Hunt or $100/Day for Double Premium Upland Hunt
* Includes guides, dogs, meals, accommodations, game cleaning, & packaging
Waterfowl Hunting Main Page >>
Upland/ Waterfowl Combo Hunts Page >>
Last Updated: September 8th, 2023