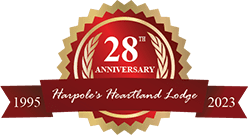 Heavenly View – Luxury Cabin
Entire cabin rented exclusively (Individual rooms not available to rent – see lodges)
 CLICK TO CALL
 BOOK NOW
Heavenly View is a luxury cabin with views that will take your breath away! Nestled near the top of the Mississippi River bluff, this cabin provides amazing views of the Mississippi River valley and the surrounding property. The cabin has a southwest theme through-out the inside and sits on 52 private acres which you can enjoy from the covered patios and screened-in porch that adjoin three sides of the cabin. Wake up in the morning with a cup of coffee and step outside to listen to the wild turkeys gobble around you or watch the whitetail deer feed in the meadow at the bottom of the valley next to the historic old barn. At the end of the day, savor the sunset and its beautiful colors across the Missouri hills. Sit back and enjoy the seclusion and privacy while relaxing in true luxury in Heavenly View.
Whether you are a couple looking for a romantic escape, a family wanting a cabin all to yourselves for a reunion, or a group of friends that like to vacation together, this cabin is the perfect location for you. With 4,800 square feet and four bedrooms, Heavenly View provides enough room for 2 – 10 people! (When booking 4 – 10 people, Heavenly View provides the best value of all our lodges.) The chef in you will enjoy the Better Homes and Gardens design of the country kitchen. This spacious cabin also includes a comfy living room with plush cowhide furniture and a 55″ flat screen television, a library room with amazing views out the large windows, a dining room, and a recreation room with a pool table, foosball table, and flat screen TV for all to enjoy.
If you are a frequent visitor of Heartland Lodge, you are going to love this new addition. Located just five miles from the main resort, this cabin will be one that you can have all to yourself. The fully-equipped country kitchen at Heavenly View is set up for those of you who want to cook your own meals. Or if you prefer, you may dine out at one of the local restaurants or choose from our favorite meal options. You can enjoy all this while having a cabin exclusively for you or your group!