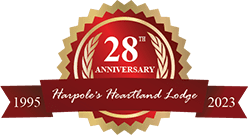 A Cabin with a Heavenly View!!
"In this blog, Heartland's photographer and blogger, Lori Biehl highlights the Heavenly View Cabin."
The name "Heavenly View" certainly says a lot. But I realized as I was at the cabin photographing the rooms and furnishings that there is a lot more to this property than just the view. The cabin is located approximately five miles from the current resort and is nestled on 50 acres with one of the prettiest views that you'll find in the Midwest. If you've ever visited Heartland Lodge, you'll know that the road off of Hwy. 96 winds through the hills of the Mississippi River bluffs. One of the things that I noticed about the road to the cabin is that it winds through the hills too and is very much like the road to the Original Lodge. Very fitting!
But once you turn off the road for the drive to the cabin, you begin to feel like you are in a completely different world. When I was there, the spring wildflowers were blooming on either side of the road. I've always enjoyed wildflowers so this was the perfect way to begin the day. As you drive on up to the cabin, you'll notice a rustic old barn in the valley to your right. I didn't have the time to go down and take photos last week but I promise you, I will go back and get close. I love the texture of old barn wood and rusty hinges in photos so the next time I am there, I know where I'll be!
Heavenly View is certainly appropriately named…and as you drive through the wildflowers to the cabin, you'll begin to see more and more of the river valley. But guess what? There are no neighbors or any other buildings in sight – you are enjoying the view from 50 private acres – and you'll LOVE it! And you know what that means? The rich green of the spring leaves on the trees! Amazing sunsets! Gorgeous fall colors! And for me – a photographer's dream!
But I was there on a mission and couldn't just sit and enjoy the view…though I certainly wanted to. So, to work I went…but in one of the most peaceful settings that I have been in quite some time. And that's the feeling that I had all day…peace and quiet, calm and relaxed. Of course, the weather was perfect too – a bright sunny day with temps about 65 degrees and just a slight breeze. Pure heaven!
The cabin can accommodate anywhere from 2 to 10 people so it would also be a great place for a couple's retreat! Imagine a group of your girlfriends hanging out for a few days of scrapbooking. And what better way to spend New Year's Eve than at Heavenly View with a group of your closest friends! With four suites and bedrooms, the cabin provides the ideal setting for close friends and family to enjoy each other's company in the natural surroundings that Mother Nature provides.
But what if you just need a place to go for some down time…to relax and recharge your batteries? Heavenly View is it! With the privacy and seclusion of this cabin, you'll relish in the peace and quiet and sounds of Mother Nature. Are you an author suffering from writer's block? I can't think of a more suitable place to get the creative juices flowing than Heavenly View. Maybe the next time I have trouble writing a blog, I should just call & see if I can give it a try!
Heavenly View is decorated in a southwest theme with Old Hickory furniture. In addition to the four suites/bedrooms, you will also enjoy the living room, dining room, library room and a wonderful kitchen with a Better Homes and Gardens design. Imagine kicking back and catching your favorite sporting event on one of the HD TV's or curling up with a good book from the library. If you are a chef – or just enjoy cooking – you'll thoroughly enjoy the fully-equipped kitchen and its pickled oak cabinets. There are also outdoor grills available for all those summer cookouts just waiting for you! When my family would rent a house or cabin for vacation, my mom always took all the condiments and prepared the meal for the first and last night. Then, each family was on their own for breakfast and lunch, but a different family had dinner responsibility each night. This method worked well for us – maybe it will for you as well. If cooking isn't quite your thing, you can grab a bite to eat at one of the local restaurants. When we travel, I like to find the local places to eat rather than the chain restaurants…there is so much more character at an area diner or café.
Regardless of where or how your meals take place, you'll want to have at least one meal on the covered porch or enjoy a cup of coffee on the screened-in porch. Both offer amazing views that you will definitely want to enjoy! Grab a bottle of your favorite wine, or try something new from one of our local wineries, and you'll have the perfect companion for the sunset that you won't want to miss! I haven't seen a sunset here yet so I'm looking forward to it – and I am hoping I'll be able to get some decent photos to pass along.
Speaking of photos, don't forget to bring your camera. Not only will you want to document your stay, you'll want to snap photos of the bear mounts or Lewis & Clark (our mascot raccoons) paddling their canoe. Our Cracker Jack raccoon is sure to be a hit as well! But don't forget to explore the property. As indicated previously, the barn promises some amazing photos and maybe you'll be able to catch some wildlife roaming around – it's a perfect spot for deer and turkey!
So, what is the moral to my story? Heavenly View will feel just like home. It did to me and I can't wait to go back and photograph things as they are added. Stay tuned for more on the recreation room and the outdoor areas. Oh yeah…and the sunset! And I can't wait to see it decorated for the holidays. It would be an ideal location for gathering family or friends to celebrate over Thanksgiving, Christmas or the New Year! You'll be close enough to Heartland to enjoy the amenities such as horseback riding, the sporting clays course or ATV trails but you'll be able to come 'home' to Heavenly View and enjoy your closest friends and family. So, make your reservation, pack your bags, and head to Heavenly View!
Lori Biehl
Twenty-Year(+)-In-a-Row Guest
More Information on the Heavenly View Cabin Here >>
Book the Heavenly View Cabin Online Here >>
Last Updated: May 10th, 2023