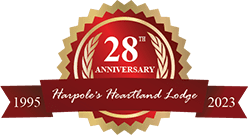 Weekday Escape Perfect for Unwinding!!
Let's face it.  Life just gets crazy sometimes and we all need to unwind.  Between work schedules, kids' activities, and social commitments, our daily lives can be extremely hectic.  And whether you are a young couple with children, empty nesters or retirees, finding time to relax can be a difficult task.  So let Harpole's Heartland Lodge help you do just that…by providing the perfect setting for a weekday getaway that you are sure to enjoy.
No matter what our work schedules are, we all need a break with no cooking, no cleaning, and no worries.  That's exactly what you will find at Heartland Lodge…that AND you don't even have to make your bed!  Nestled in the rolling Mississippi River bluffs in Pike County, Illinois, Mother Nature's backdrop will encourage some rest and relaxation!
If you have a flexible work schedule, then getting away during the week is no problem.  But for those of you who work Monday through Friday, we have the perfect solution on how to relax.  Take advantage of the room discounts available Sunday through Thursday when you include the meals package with your reservation. If you can only take a half day off work, book your room for Sunday night then come early and enjoy all the amenities the lodge has to offer…the horseback riding trails, ATV trails, and sporting clays.
Looking for some more relaxing activities?  If you are a bird watcher, the hummingbird feeders will keep you entertained for hours.  Wanting to catch up on your reading?  Kick off your shoes and read a book.  You might even want to take a nap!  We're sure that you'll wake up feeling refreshed and ready to enjoy the home-cooked meal prepared especially for you.  After dinner, enjoy the scenic hayride through the rolling Mississippi River bluffs.  Upon your return to the lodge, practice your star gazing technique while sitting around the roaring bonfire.  At the lodge, you can see the stars while you enjoy the outdoors!
Once the fire dies down, your private room with private bath is waiting for you.  Soak in a relaxing bath while reflecting on the day's activities.  All of our rooms are decorated with a nature theme and have triple sheeted beds with a private bath, while our seven Luxury Suites also have a fireplace and a Whirlpool tub.
If you live close (within a couple of hours), consider going in to work a little late on Monday…or even take a half day off work.  But if you live a little further away or are able to take more than one day off work, you may want to extend your stay and enjoy the peace and quiet that surrounds the lodge during the week.  By booking your stay for weekdays, chances are much greater that you will have more privacy while having the property and trails to yourself.  Even though relaxation may be at the top of your list for this trip, you may also want to check one…or more…of the local attractions in the area that would make a great day trip.
So, the next time you have some days off work or are just looking for a nice little weekday getaway, come breathe in the fresh air at Harpole's Heartland Lodge.  You'll find yourself rested, relaxed and ready to face the day-to-day rituals of your life back home.
For more information on the weekday discounts, check out our Resort Rates page.  And if you are able to extend your stay, check out our Vacation Page for our lists of Top Ten Activities to do within the area.  We're sure our Photo Gallery will help provide the encouragement to make your reservation soon!
Polaris UTV Rental Information
Last Updated: August 31st, 2023