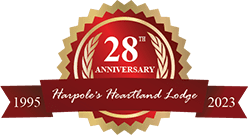 Last-Minute Deals!
Welcome to Heartland Lodge's last-minute deals page! Please bookmark this page for future last-minute deals! See below for select dates and rates! Must call 217-734-2526 to reserve lodging with special pricing! We are in the office Mon. – Fri. / 8 A.M. – 5 P.M.
Reserve a Room Online Here >> or give us a call at 217-734-2526 for more information!
---
Sunset Valley Lodge
This luxury lodge boasts the most amazing view of the sunset that you will find anywhere in the entire Midwest! The view from the expansive rear deck as the sun sets over the horizon of the Illinois and Missouri hills is simply breathtaking. This 10,180 square foot luxury cabin getaway features seven suites and rooms. Once inside, you will NOT want to leave!
The spacious executive suites in this lodge includes ultra-comfy king-size beds, two-person hot tub, large screen TV, along with private sitting areas that overlook an amazing view.
Sunset Lodge Luxury Suite Available June 16th & 17th, $340/ night- (Father's Day Weekend!)
*Call about our weekday specials! 217-734-2526
For more information on our Sunset Valley Lodge, Click Here >>
---
The Original Lodge
The Original Lodge features eleven regular rooms, the Angler Room and the Whitetail Suite for a total of thirteen rooms. Each room or suite is decorated in a theme according to its name.
Each room or suite at The Original Lodge can be reserved for individual guests or couples. When reserving individual rooms, it is encouraged that you purchase the meals package, which are served at our Prairie Ridge Lodge, just a short walk from the Lodge along a rose-lined walkway.
If you have the need for more than one or two rooms, this lodge is ideal for businesses, groups or families to reserve exclusively for yourselves. If your reservations include the meal plan (highly recommended), the meals will be served in the Prairie Ridge Lodge. If you prefer to prepare your own meals, the fully-equipped kitchen available makes the Original Cabin Lodge ideal for your group.
Group Weekend Buyout Special! June 23rd & 24th (Fri/Sat Night) $100 OFF PER NIGHT! Regular $1,599 per night. (Up to 13 Rooms)
Call 217-734-2526 to reserve!
---
Prairie Ridge Lodge
These suites are a favorite among our guests! They include the following:
Ultra-comfy king-size, triple-sheeted canopy bed
Private bath with two-person hot tub
Fireplace
Comfy sitting area & daybed
Flat screen TV
Mini refrigerator
Direct access to the deck right outside your door
Each room also has its own private Adirondack chairs on the deck where you can relax first thing in the morning enjoying a cup of coffee while watching nature wake up around you.
Call about our weekday specials for the month of June! ($212 per night, Sun-Thur) 217-734-2526
For more information on our Prairie Ridge Lodge, Click Here >>
---
The Quail Ridge Cabin sits atop a beautiful knob overlooking gently rolling meadows, agriculture fields and forest. Just a couple miles from the main resort off a dead-end road, Quail Ridge, is a completely secluded getaway for those looking for the perfect escape. Whether it be a weekend getaway or Weekday Retreat, 2 or 3 day mini-vacation or a Work-cation, Quail Ridge offers a peaceful, private getaway in the serenity of nature. Whether you are staying at the lodge for a vacation or hunting trip, you will be sure to enjoy this cabin. It is the perfect private cabin getaway that offers complete seclusion and privacy!
Father's Day Weekend Promotion, June 16th-18th (Fri-Sun Night) $75 OFF/ Night. Regular $600 per night for 1-8 guests.
---
Private Luxury Cabins- July 4th Weekend Dates Available!!
Enjoy a private luxury cabin that was built with couples in mind. Our private, romantic cabin rentals in Illinois are also the nicest luxury cabins in the Midwest.
Each romantic cabin is decorated with its own unique theme. All cabins are carefully crafted with knotty pine and cedar walls, fifteen-foot vaulted ceilings, hand-carved Old Hickory furniture, high quality fixtures and appliances. Includes an ultra-comfy king bed, fireplace, TV, jetted two-person tub, private patio sitting area and outdoor firepit!
Last Minute Deals-
June 2nd & 3rd (Fri/ Sat Night) Aunt Bert's & Gerald's Private Luxury Cabin:

$75 OFF

Per Night (regular $400 per night)
June 9th/ 10th & 16th/ 17th (Fri/Sat Nights) Bobby's & Gerald's Cabin:

$75 OFF

Per Night (regular $400 per night)
---
Activities Offered:
Bonfires w/ smores!
Hiking
Gourmet Meal Plans *call 217-734-2526 to reserve.
*Save $24 per day on each ATV/UTV day riding pass when you stay overnight!*
Call 217-734-2526 to receive this special last-minute deal!
*Does not include tax. New reservations only.
*Last minute deals must be booked over the phone, discount will not be applied online.
Last Updated: May 30th, 2023