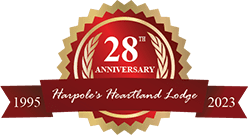 Illinois Gun & Firearm Whitetail Hunts
November 22nd, 2023 – Pike County, IL Outfitter Report – "Now is the time to book your 2024 firearm hunt before we are sold out! Call us today to book your next hunt whitetail hunt of a lifetime! We take a limited amount of firearm hunters and the spots go fast! Call 217-982-4039 or E-Mail to inquire about our guided whitetail gun hunts today!"
Illinois firearm whitetail hunting, especially in Pike County,
has been a tradition at Heartland that dates back to when Heartland's owner, Gary Harpole, grew up hunting as a child.  The anticipation of opening day of Illinois' whitetail gun season was more exciting than any holiday or occasion. The firearm season was spent at Gary's Grandpa's house. (This home still stands next to Heartland and now Gary resides there.) The Illinois gun season always opens on a Friday and all the local schools close for the occasion. Gary grew up in Quincy, but just the same, he would get excused from school and make the exciting drive to the area where Heartland Lodge is now located.
What makes us different than all the other whitetail outfitters in Illinois and the Midwest?
Long-term deer management – Most of our whitetail properties have been under our management for 10+ years. Some for 20+ years!
No smoke-and-mirrors marketing – All of our deer photos and trail cam photos are from our hunters and properties. Many outfitters post photos of friends' and families' deer, along with trail cam photos on properties you will never be hunting.
Full time whitetail guides – Year-round whitetail guides and supporting staff. Most outfitters are only part time operations. At Heartland Lodge, we are a full-time whitetail outfitter that starts preparing for our next hunt the day after deer season ends
Our guides do not hunt the properties – Many outfitters allow their guides to hunt the same stands and properties as the hunters decreasing your opportunities.
Personal Service – We stay "small" by choice and only have one deer camp/lodge. We like to develop long-term friendships with all of our hunters. You will see the owner every day at the lodge. Low pressure and low volume on our properties keeps those mature whitetails from going nocturnal. Many outfitters run a high-volume operation and you are just a number to them. We want you to be just as excited to return to Heartland as when you first arrived.
25+ Years – Many outfitters come and go; Heartland Lodge has been a whitetail outfitter in Pike County IL for over 25+ years!
Hunting Tradition – Your stay with us is more than a deer hunt. It's part of a strong hunting tradition that started back when Heartland's owner, Gary Harpole, was a child. Each year new traditions are being created by our guests. It's our hope that you create your own memories at Heartland with your family or friends and carry on a tradition that started many years ago. Start your own tradition this season when you book a hunt with friends and family!
The excitement was shared not only by Gary and his grandfather, but his entire family and relatives. Uncles, aunts, cousins and friends would all stop in at Grandpa's House to catch up on the latest deer stories. Saturday night, everyone would bring the wild game they harvested and cook a feast fit for a king. The hunts themselves were always memorable. Nothing was as exciting as sitting on a log, or a five-gallon bucket (before they installed tree stands), watching that monster buck appear at first light and feeling your heart pound as if it was going to come out of your chest. The meat pole was always the tree in Grandpa's front yard. It was a tradition in Pike County that everyone drove around looking to see what their neighbors brought in. Best of all were the traditions and memories Gary made with his Grandpa and family that will last a lifetime.
Those same traditions are being carried on at Heartland Lodge. Gun season is a very special time at Heartland. The evening meal and orientation meeting the night before is filled with anticipation and excitement. Many whitetail hunters will be hunting the same properties that Gary's family did for generations. Most importantly are the new traditions that are being developed with fathers and sons, grandpas and grandsons, and friends that will last a lifetime.
Illinois' first gun season always falls in November on the weekend before Thanksgiving. Opening day is on a Friday and the season ends on Sunday. These three days normally fall during the peak of the rut, creating some exciting days in the stand! Illinois' second gun season always falls the weekend after Thanksgiving weekend (normally the first weekend in December.) The second gun season starts on a Thursday and ends on the Sunday. If colder weather moves in, this hunt can be very productive for large whitetail bucks, plus you get an extra day of hunting. You can use approved shotguns, muzzleloaders and pistols during the first two firearm seasons (No rifles). Archery hunting is not allowed during these firearm seasons.
Illinois' muzzleloader-only season falls on the weekend following the second gun season. This season starts on Friday and ends on Sunday. Only approved muzzleloaders are allowed. You can archery hunt during the muzzleloader-only season when you have an Illinois archery permit.
Our combo Archery/Muzzleloader hunt is very popular during this time. It is a seven-night, six-day package. You can either archery hunt three days before the muzzleloader season, then hunt the three days of muzzleloader or you can hunt with your bow the three days following the muzzleloader season. You can harvest a buck with your bow and your gun! The buck pictured above was harvested during our muzzleloader only season!
For more information on deer behavior and hunting strategy during the Illinois Muzzleloader Only Season, Click Here>>
What makes Illinois such a great deer hunting state? There are many factors, but low pressure and great genetics, along with a healthy age structure, make Illinois the best destination for hunting mature whitetails. Within Illinois, Pike County is the premier county for trophy whitetails. Pike County is located in-between the Illinois and Mississippi Rivers. This fertile land has all the minerals whitetails need, along with an abundance of agriculture mixed in with just the right amount of hardwoods and cover that whitetails desire. All whitetails are free roaming when hunting at Heartland Lodge.
Purchasing your shotgun permit for the first two seasons or late muzzleloader season is a very easy process. All Illinois residents can apply in the first lottery that normally ends at the end of May. All nonresidents and Illinois residents can apply in the second lottery that normally ends August 15th. If you apply in either one of these drawings, you should receive a permit. All leftover permits are then sold online or at a licensed vendor until they are sold out.
Shotgun permits come with one either-sex tag. For an additional small charge, a doe-only tag can be added.
The late season doe permits can be purchased online or at a licensed vendor for residents. If you are a nonresident and want to hunt one of these seasons, you must purchase a doe permit for one of the first firearms seasons. These permits are allowed to be used for the late doe season. In recent years, Pike County has been an unlimited county, meaning you can harvest as many does as you would like, as long as you have a deer permit for each one.
For more information on our deer hunts, go to our main Whitetail deer hunting page.
2023/ 2024 Archery Dates Available:
More on our Archery Hunts>>
2023 Archery Dates Available
Dec. 27th-29th (3 Days of Hunting)
$1,750
Jan. 2nd-4th (3 Days of Hunting)
$1,750
Jan. 2nd-6th (5 Days of Hunting)
$2,250
Jan. 9th-11th (3 Days of Hunting)
$1,750
Jan. 9th-13th (5 Days of Hunting)
$2,250
2024 Archery Dates Available
October 1st–5th (Opening Week - 5 Days of Hunting) Click Here For More Info.
$3,500
October 7th-10th (4 Days of Hunting)
$2,850
October 14th-17th (4 Days of Hunting)
$2,850
October 19th-21st (3 Days of Hunting)
$2,550
October 23rd-27th, (5 Days of Hunting) Click Here For More Info.
$4,350
October 29th-November 2nd (5 Days of Hunting)
$5,550
November 4th-8th (5 Days of Hunting)
$5,550
November 10th-14th (5 Days of Hunting)
SOLD OUT!
November 16th-20th (5 Days of Hunting) Click Here For More Info.
$5,550
Nov. 29th-Dec. 3rd (5 days of hunting) Click Here For More Info.
$2,650
Non-hunting guests are welcome. The rate is $150 for each night for a regular room. Call for pricing on other rooms.
Non-hunting guest meal package is $80 per night.
If non-hunting guest would like to sit in the stand with hunters, the fee is $150 per hunting day. (This option is not available during rut weeks, late-October/November- we have limited space in guide vehicles)
Private rooms are available upon request.
All Lodges/ Cabins have WIFI
$150 for a private regular room (Oct-Dec) each night at The Original Lodge.
$175 for the Angler room (Queen Bed) each night at The Original Lodge.
$200 for the Whitetail suite (King Bed & Whirlpool) each night at The Original Lodge
$250 for the Luxury suite (King Bed, Whirlpool, & Fireplace) each night at Prairie Ridge Lodge
$350 for the Private Luxury Cabins (King Bed, Whirlpool, Fireplace & Private Deck) each night at the Luxury Cabins
Enjoy one of our Luxury Suites during your stay. For only $125 per hunter (per night – based on double occupancy) you can stay in one of these incredible rooms. Each spacious room has two king size beds, Whirlpool, fireplace, gun holders, private decks and entrance. Prices are valid only when purchasing a hunt package above, otherwise our regular room rates apply.
If you are looking for a rewarding and fulfilling job as a whitetail hunting guide at one of the best whitetail hunting outfitters in the country, look no further than Heartland Lodge!
All of our whitetail hunting guides are experienced, accomplished deer hunters. We manage over 5,000 acres of the best whitetail hunting habitat in the country for trophy whitetails. We put in several acres of food plots, run trail cameras and scout year-around. Whether it be glassing summer bean fields in July or shed hunting in February, you will be hard-pressed to find more compassionate deer hunting guides. Our guides take great pride in our ability to pattern deer and give our clients the best guided deer hunting experience available. Please follow the link below for more information.