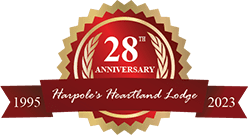 Heartland's Family Hunting Tradition
I grew up with a large extended family and a deep hunting tradition. My parents were both from Pike County, Illinois and moved to Quincy where I was born. We visited my grandparents and extended family often. Many of the visits included hunting. The memories that were created will be with me for the rest of my life.
Growing up, I loved hunting more than I did Christmas (my mom will attest to it.) I loved coming to my grandparent's house. My grandma was like Aunt Bee from the Andy Griffith show. It didn't matter if you showed up unannounced on Monday, Wednesday or Saturday, she would have a kitchen full of homemade pies, cakes and other food. She loved making everything from scratch. Many of the recipes you will enjoy while staying at Heartland were my grandmother's.
I had many uncles and cousins that loved hunting as well. We hunted deer, quail, pheasant, ducks, geese, rabbits, squirrels, raccoons and other animals. If it was in season, we hunted it. We each had different dogs to use. They included pointers, labs, beagles and coonhounds.
My grandfather passed away around the time I started Heartland Lodge. (My grandmother had already passed.) Unfortunately, my aunts and uncles started fighting over what little my grandfather had. My mom's family grew up very poor. They didn't have an outhouse until my mom was in 8th grade! My family tradition was over when my grandfather passed.
I didn't have time to miss it as I was too busy starting a new business (Heartland Lodge) as a very young man. I was only 25 at the time. Starting Heartland Lodge was like the movie "Field of Dreams." People thought I was crazy and told me it would never last. It was those doubters that I have to thank. They motivated me to prove them wrong. Now we have people traveling from around the world, just like the cars at the end of "Field of Dreams."
About 10 years ago, a light went off inside me when doing a welcome meeting with some hunters who visit Heartland Lodge every year. I realized my family tradition didn't end… it's being carried on by you, the hunters, who visit Heartland Lodge. Many of the hunters also have made visiting Heartland Lodge a part of their own tradition.
As I get a little older and a bit wiser, I reflect back to the memories of hunting with my family as a child growing up. The most cherished memories are not the deer or other game we harvested, but the memories created from time spent with family and friends. The harvest was a bonus. That is what hunting and Heartland Lodge is all about, creating memories that you will always cherish.
You are part of our Heartland Family! I look forward to you making new memories and creating traditions that last a lifetime.
Gary
Gary Harpole
Harpole's Heartland Lodge
217-734-2526
**Be sure to share with everyone in your hunting party** Enter their E-Mail address to automatically sign them up for this series by CLICKING HERE>>
Last Updated: January 20th, 2022