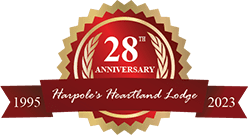 Executive Retreat Location
August 8th, 2023 – "We are celebrating our 28th anniversary this year and would like for you to join us in the celebration! We offer the perfect mixture of professional workspace and play! Get out of the office and enjoy a unique and fun getaway that your co-workers will thoroughly enjoy! Now is the best time to lock-in your dates for 2023 or 2024 executive retreats! We have had an increased interest in executive retreats following the "covid boom era". Call today at 217-734-2526. E-Mail Office@HeartlandLodge.com for more information."
---
If you are looking for a unique and memorable location for your next executive retreat, you have come to the right place! Harpole's Heartland Lodge & Resort specializes in hosting retreats for executives. The location in Pike County, Illinois makes Heartland Lodge convenient to the St. Louis metropolitan area and an easy drive from Chicago. The lodge is secluded, scenic and remote which makes it ideal for the escape executives are looking for. Our resort sits on the bluffs of the Mississippi River overlooking the scenic river valley and the Missouri hills providing a breathtaking backdrop for your next executive retreat.
Executive Retreat Accommodations
The exclusivity of Heartland Lodge's buyouts is what makes us a perfect venue for executive retreats. Each of our three executive lodges and additional executive luxury cabins can be booked privately for your group so that you will be able to enjoy the area in privacy. Our 5-star accommodations and amenities along with our quality service and hospitality distinguish us from other executive retreat locations and ensures that your retreat is of the highest standard.
Don't take our word for it, review some of our reviews and see what other guests have to say about our premier executive retreat facilities.
Heartland Lodge offers all the amenities you need including a full conference center and meeting area with high-speed internet. We also offer a range of team building activities that are both enjoyable and foster that essential camaraderie that all successful organizations thrive on.
Read on for more information about the resort, amenities, facilities, activities and more and feel free to contact us for more information.