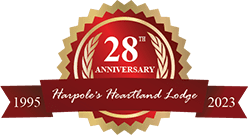 Whitetail Deer Shed Antler Hunting
Hunting Shed Deer Antlers
What is shed hunting for antlers and why do we do it? Shed hunting is simply searching for antlers that have fallen off of whitetail deer, mule deer, elk, and other antlered species usually in the late winter to early spring. A deer will usually start the shedding process after the breeding season when his testosterone level has dropped. In Illinois, some whitetail bucks will shed their antlers as early as Christmas and some may carry them until April.
Why do we spend countless hours walking around searching for these antler sheds?  Besides the thrill of finding a large whitetail shed antler, there are some practical reasons for the search as well. Collecting these shed antlers, post season, helps the land manager take inventory of bucks that have survived.  They also provide valuable insight to the habits of the animal that dropped them.  This information can be quite useful for the future pursuit of a particular animal.
Hunting Shed Antlers is Great for Scouting
Spending hours shed hunting a farm also allows you to see all of the sign that the deer herd has created during the fall.  This is the time of year to thoroughly scout your properties and investigate all of the sanctuary areas that you have set aside the rest of the year.  Stand locations picked at this time of the year are usually much more accurate than during the summer months, as the deer sign from the hunting season is quite visible.  The location of the shed antler can also reveal a possible location to ambush that buck the following winter.
Deer antler shed hunts can be done with friends, family or solo. It's a great way to spend some time in the outdoors. Deer hunting is normally done alone in a tree stand. Hunting sheds is a great way to spend some time with your hunting buddies. What you learn finding dropped sheds will make you a better woodsman in the fall.
Where to Find Deer Shed Antlers
Southern Exposure Areas: The south facing side of a hill receives the most amount of sunshine in these months and also helps protect the deer from pre-dominate northwesterly winds.
Scattered Evergreens: Pines, cedars, and spruce trees provide thermal cover and provide shelter in the snow and ice.
Bedding Areas: This time of year bucks re-form their bachelor groups. If you can find the areas where these bachelor groups are bedding you will have a very good chance at finding multiple shed antlers.
Food Sources: Available food sources are dramatically reduced during the winter months.  If you have a food source such as standing corn, beans, or winter wheat these should be considered high probability locations to find shed antlers. Other areas such as alfalfa/clover fields and acorn flats should also receive considerable scrutiny.
Water: This time of the year, most of the water sources are gone or frozen. Areas of available water such as creeks and ponds can yield positive results.  Deer often use their hoofs to break open areas of ice to access water.  This exertion can often cause their antlers fall off.
Trails and Fences: Clearly defined trails should be present around any of the areas that the deer herd is actively using.  Follow these trails from the feeding areas to the bedding areas to search for antlers.  Pay particularly close attention to areas where these trails intersect a fence or ditch.  The jarring motion, to clear these obstacles, may result in the dropping of an antler.
Whitetail Shed Hunting Tips
The most important part of shed hunting is to slow down. Take your time moving through the woods.
Keep your eyes down to the ground. Most sheds are found within a few feet of you.  If you are looking out ahead as you walk you are probably missing antlers.
Look for shapes and colors out of place. Don't look for a whole shed, look for a tine or something that doesn't blend into its surroundings. Look for a "v" from tines coming off a beam or a "c" pushing off the ground from a main beam.
Binoculars: Carry a lightweight pair of quality binoculars to help cover more ground and to help you discern a stick from a tine. Glassing your surroundings will also help slow you down when moving through the woods.
Also, when shed hunting and focusing on the ground, you can easily go a little further than you expected.  Carry some bottled water and snack items so you don't have to cut your excursion short to retrieve them from your vehicle.
Field edges, military crest, and drainage ditches close to a quality late season food source are all good places to search.
For more tips and tactics on shed hunting check out our shed hunting blogs-
Shed Hunting Trips in Pike County, Illinois
Late January through March are the best times to shed hunt in Illinois and the entire Midwest.
To gain access to Heartland Lodge's properties for shed hunting all you need is an overnight reservation.  As if the food and accommodations weren't enough of an incentive, thousands of acres await the motivated shed hunter.  This is a great way to spend a winter weekend or check out the lodge for a future whitetail hunt.  Make your reservation today and bring some good hiking shoes. The couple pictured on the right had an amazing shed hunting trip while staying at the lodge this past shed hunting season!
Whitetail Deer Hunting Main Page                 Illinois Gun Hunts
Early Season Whitetail Hunting                       Hunting the Illinois Rut