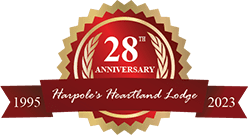 Shed Hunting Illinois 2023 Update
February 14th, 2023- Illinois Shed Hunting Update: We're in the middle of shed season here in West Central Illinois. Valentine's Day is known to be when the majority of shed hunters really start to put the miles on the ground here in Illinois. With little snow accumulation and mild temperatures the last few weeks, many shed hunters across the state have started early this year. 50-60 degree temperatures in the middle of February is not what we're used to here in West Central Illinois!
2023 Shed Hunting Illinois/ Mid-January Update
I would estimate that roughly 50-60% of bucks have started shedding antlers in Pike and Calhoun Counties. Driving around and glassing in the evenings, I've noticed whitetails are still hitting green fields, pastures, corn and bean fields routinely. Over the next week or so, we're forecasted to get some more mild temperatures. This could make for a more challenging shed season. Typically, when we have a harsher winter, we have better luck finding sheds because they do not travel far from a quality food source and predictably bed on Southern facing slopes. Speaking of snow, check out this blog about Shed Hunting in the Snow if you're area has snow on the ground.
This is the best time to move trail cameras on high quality late season food sources to help monitor individual bucks' movements to help gain an edge on finding their sheds later this winter. If you're in a "high pressure" shed hunting area, cell cams can be a great tool to give you the first run-through of a property after a buck shed's his antlers. I like to place them in easy to access/ check areas to help keep the deer as undisturbed as possible. I would not be afraid to poke around in known bedding areas now, especially if you've found one side to a large antler.
The simple equation to finding more deer sheds? Cover more ground! Many of the "best" shed hunters I know simply cover more acres than the average shed hunter. In my experience, I average a deer shed about every 5 miles of ground covered.
Looking for a Place to Shed Hunt in Illinois?
Heartland Lodge offers shed hunting on their 1,500 acre OHV park located in Pike County, IL. To gain access to shed hunt, all you need to do is make an Overnight Reservation Here >>, or give us a call at 217-734-2526. Bring an ATV/UTV or rent one of our side by sides to cover more ground! UTV Rental Information Here >>. Check out the ATV Park Map Here >>. You get to keep any sheds you find!
For more tips and tactics on shed hunting check out our shed hunting blogs-
Good luck this shed hunting season! I hope you find your biggest shed yet!
Zach Jumps
Zach@HeartlandLodge.com
Last Updated: February 14th, 2023