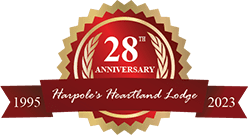 Wild Berry Picking At Heartland Lodge!
Wild Berry Picking in Illinois Update- June 7th, 2022 "This year it looks like we are going to have a great crop of wild berries! We typically start to see the wild berries beginning to ripen around July 4th on the lodge properties. Enjoy FREE wild berry picking when you book an overnight reservation or Rent a Polaris UTV!"
It's that time of year for picking wild blackberries and raspberries in Illinois! The Heartland Lodge properties are loaded with these tasty berries. The tradition of picking wild berries goes way back to Gary Harpole's grandparents and great-grandparents. It was a family tradition to pick them fresh and make jams, jelly, cobbler and just enjoy them fresh, "two in the bucket and one in the mouth." 🙂
"When I grew up blackberries were a special treat during the summer months.  I would look out the window and see my Grandpa George with a bucket, on the hottest day of the summer, going to pick blackberries.  He was in his nineties. We made cobblers, pies, but my favorite was blackberry dumplings. Grandma Nellie would make blackberry juice and on New Year's Day Grandpa would bring us a jar of the precious commodity.  This was to bring us good fortune with plenty of food for the coming year. Sometimes when we were sick, Grandpa George would bring us a jar of the blackberry juice to help us get better.   Also, many stories have been told about their buckets being full of berries."  -Wanda Harpole
Did you know these wild berries are a very healthy fruit high in fiber and vitamin C?  When picking them it is key to only pick the ripe one's which are almost black in color whereas the unripe blackberries and raspberries will appear red and will not ripen once picked. If you are a serious berry picker and pick more than you can eat, you can freeze them in freezer bags for future enjoyment.
Heartland Lodge has many great spots to pick these outstanding tasteful berries! The best time to pick them is from the middle of June through August depending on weather conditions. Feel free to give us a call to see when they are ripe for the picking! We look forward to you joining us during the "pickin peak" time of the summer! Just keep an eye on your berry bucket! 😉
**Book an overnight reservation or purchase a ATV/UTV day pass to enjoy wild berry picking at the lodge this season!**
Last Updated: June 7th, 2023