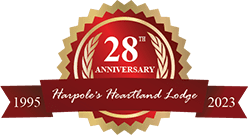 Father's Day Gift Ideas For The Outdoorsman In Your Life!
PURCHASE GIFT CARDS ONLINE HERE >>
Need a great Father's Day Gift idea? A gift certificate for a stay at Heartland Lodge is a perfect Father's Day Gift! This unique gift will be one that they will never forget and will sure to be used. Give them a memory that they will always remember -and maybe you can tag along too! 🙂
We offer several different packages/ activities for every "outdoorsy" father! Or maybe he would enjoy a relaxing weekend getaway from a busy work schedule- we offer those too! You can purchase a specific room or cabin type. For instance, if your father enjoys woodworking or carpentry, check out Gerald's Cabin. Maybe he's very passionate about upland hunting, check out Pheasant Ridge Suite. We offer several different private luxury cabins, suites and more! You can also purchase a specific dollar amount and let him choose an activity to his liking!
A few of our most popular packages/activities for Father's include:
A Father's Day Gift Certificate from Heartland Lodge will be a big surprise and one he will never forget unlike that one big pile of random gift certificates that has been sitting on the dresser for a few years! 🙂
PURCHASE GIFT CARDS ONLINE HERE >>
Call us at 217-734-2526 or e-mail at Info@HeartlandLodge.com with any questions or if you would like to purchase a Father's Day Gift Certificate today!
**A minimum of $100 is required for gift certificates.
Last Updated: June 2nd, 2023