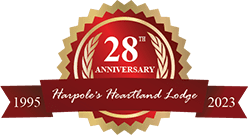 Romantic Cabins With Hot Tubs in Illinois
Now Available!  Call 217-734-2526
 CLICK TO CALL
 BOOK NOW
Romantic Luxury Cabins in the Woods with Hot Tub
I was searching for private cabins with hot tubs in Illinois and Missouri to rent and realized they were harder to find than I might have thought. I searched for "romantic cabins with hot tubs" and "private romantic cabins in the woods" and the selection was very slim. I realized then, that is what makes Heartland Lodge new private romantic luxury cabins so unique! These romantic cabins located in Pike County Illinois have private two-person hot tubs perfect for couples celebrating their anniversaries, honeymoon or wanting a 1-night romantic night away.
---

Romantic Night Away with Private Cabin Hot Tub
Whether you are looking for a private romantic luxury cabin, honeymoon or anniversary cabin, we have you covered at Heartland Lodge! Curl up on the couch and enjoy the cozy fireplace, relax in the hot tub, or enjoy our ultra-comfy king-sized beds! Nestled in the beautiful hardwood setting of Southern Pike County Illinois, you can enjoy nature right outside the window! We have many activities and amenities for you to enjoy no matter what time of year you stay!
---
Unforgettable Romantic Cabin Getaway
From the moment you step into one of our private luxury cabins you'll be swept away from the beauty and romance of the design and accommodations we have to offer. Our nature-inspired décor blends perfectly with the surrounding environment of the cabins. All of our romantic cabins were carefully crafted with knotty pine and cedar walls, high vaulted ceilings, hand-carved Old Hickory furniture, high quality fixtures and appliances.
---
To learn more about our private luxury cabins, please click here to visit our Private Luxury Cabin Page or call 217-734-2526/ E-Mail Office@HeartlandLodge.com for more information.
Last Updated: November 22nd, 2023