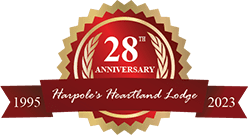 Eagle Watching – Be Right in the Heart of It!
Eagle watching – just the mere mention of this pastime brings visions of this "white headed" bird with wings spread – soaring high above the open water, then swooping down to catch its prey.  But did you know that, according to the Missouri Department of Conversation, parts of the Mississippi River Valley are home to the second largest population of Bald Eagles in the continental United States?  Wow!  And right here in our own back yard!
Most of the area's eagles migrate south when the water freezes from nesting territories in central Canada and the Great Lake states.  They start appearing in low numbers in late December and begin to head back north in late February or March.  January and February will boast the largest numbers of this beautiful bird.  They migrate south and will perch in tall trees along shorelines looking for food – especially in areas where tows or dams have churned up stunned fish.
If you are planning a day or two of eagle watching, you may want to do a little bit of research on the national symbol of the United States.  Two of the web sites that I found most helpful came from opposites sides of the river.  The Missouri Department of Conservation has a great site indicating three spots along the river that are great for eagle watching – Lock & Dam 24 in Clarksville (the most popular), Lock & Dam 25 east of Winfield and the Old Chain of Rocks bridge (south of I-270 off of Riverview Drive in St. Louis).  I knew about Clarksville and Winfield as they are basically in our own backyard but had no idea about the bridge.  Be sure and check out nature.mdc.mo.gov/discover-nature/teacher-portal/eagle-days for more information about these locations.
Illinois is represented by www.greatriverroad.com, another great site providing a wealth of information on these beautiful creatures.  There are several places listed between Alton and Grafton, including the Alton Visitors Center, Brussels Ferry, Two Rivers National Wildlife Refuge, Melvin Price Locks and Dam, and of course, Pere Marquette State Park, that boast eagle sightings.  Many of these places also have programs and/or tours available – be sure and check them out.
Even though there are many places throughout the bi-state region that are known for watching the eagles, I don't think you will find as many as there are within a few minutes, to an hour or two drive from Harpole's Heartland Lodge.  Enjoy breakfast at the lodge and then hop in your car for a fun-filled day, cruising for chicks (or birds in this case).  Whether you head south to Alton or west to Clarksville, you are sure to return to the lodge with stories and pictures to share.  And we certainly don't want to exclude the possibility of seeing an eagle or two in Quincy, IL – places I hadn't considered but will look forward to checking out – the Lock and Dam #21, the Villa Kathrine and Quinsippi Island. Also the Louisiana bridge right in Heartland's back yard is a great place to eagle watch.
There is a list of 10 great "do's" for eagle watching on www.greatriverroad.com.  Check it out!  But three of the must-haves on my list would include outdoor winter clothing (best in layers in case of a warm-up); a great camera with a telephoto lens (binoculars too!); and of course, family and friends.  Make it a weekend at the lodge and include the whole gang for this once-a-year opportunity.  Did you know that Bald Eagles were also known as "baseballs?"  That's because the eagle's white head looks like a baseball from a distance – interesting!  So, hand the kids the binoculars and have them search the tree-line for "baseballs."
Seize the opportunity for an eagle-watching getaway and let us know where you saw your "baseball" (aka Bald Eagle)!
Lori Biehl
Nineteen-Year-in-a-Row-Guest
Last Updated: August 20th, 2019