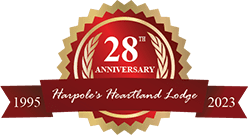 Spring Break Getaway 2024
Looking for a great 2024 Spring Break Getaway for the entire family!? Look no further than Heartland lodge. With family friendly activities such as ATV riding and rentals, hiking trails, shed hunting, bird watching, morel mushroom hunting, sporting clays, and horse rides are all provided at the lodge. Fishing, golfing, and other activities are conveniently located at the resort or within a short drive of Heartland Lodge. Pittsfield Lake which is stocked with bass, bluegill, walleye, and stripers is just 17 miles away. Enjoy a day golfing at the Old Orchard Country Club Golf Course which runs a special promotion for the aspiring golfer that stays at Heartland Lodge. There are antique shops located throughout Pike County and surrounding areas that are openly daily. Visit our Local Attractions page for all the things to do in the area. But you may end deciding you just want to enjoy our resort the entire time. Don't forget to add the AMAZING homecooked meal package!! The meals served at the lodge are absolutely amazing!
Spring Weather Conditions in Illinois
Typical March and early April weather is perfect for being outdoors. Mosquitoes and other pesky bugs are typically still dormant which allows for enjoyable time spent outside, either around the campfire or just enjoying the sunset from the lodge's beautiful porch views! Another plus a spring break getaway at the lodge is the absolutely beautiful array of trees that start blooming! Reb buds and dogwoods paint the surrounding landscape around the lodges the most beautiful picture-like setting with bright pinks, reds and whites! Make this spring break one the whole family will remember and cherish for years to come while staying at the Heartland Lodge! We have several family and friend groups that make Heartland Lodge an annual Illinois spring break trip!
Spring Break Getaway- Not Just for Kids Anymore!
As a kid, spring break felt like a mini summer vacation.  The weather was relatively warm, you had little adventures with your friends, and you did everything in your power to forget that things like homework even existed.  As a grownup, the first signs of spring make me miss those whimsical times.  Unlike some of my friends who are teachers, I don't get a guaranteed vacation every spring.  It's even getting easy for me to forget about the concept of a spring break until something comes along and reminds me.
At first this trend bummed me out.  But after a while I realized that being a responsible adult doesn't mean that my days of spring breaks are behind me.  I just have to make more of an effort to get the ball rolling.  My workplace may not shut down for two weeks every year, but that doesn't stop me from having one heck of a long weekend!
It started out small.  One year I went to a friend's barbeque on a relatively warm Saturday.  After that we had a nice picnic to celebrate the change in season.  The next year my husband and I upped the ante and took a camping trip in Southern Illinois.  We even checked out some of the wineries in the area.   It turns out that it's nowhere near as difficult as I originally thought to properly enjoy a little spring break… no matter how many years have passed since your graduation.
After our camping trip in early spring, we really got the bug.  We wanted to make the most of our weekends now that snow and winter coats were no longer concerns.  We looked for new and exciting options around town but quickly got tired of what the city had to offer.  Most of the local options had an indoor focus, and we'd had quite enough of that during our months of hiding from the cold.  We were ready for some sun and fresh breezes.  We were ready for some fresh and beautiful landscapes.  We were ready for recreation and adventure.
Central-Illinois Fun Getaway with Friends and Family!
Luckily Central Illinois has some amazing opportunities, if you know where to look…which we didn't at first.  Since camping worked so well for us before, we figured it would work again.  We took a day off of work to give us a proper trip and headed out to a campground a few hours away from our home.  The thing about camping, as many of you have no doubt experienced, is that when things go wrong, they really go off the rails.  The weather didn't cooperate, and the local wildlife (and insect life in May) became a real problem.  What was supposed to be a fun and rejuvenating trip turned into an exhausting experience.  We wound up going home early, tired and dejected.  Clearly, we had missed the mark.  Another couple may have given up on spring break at this point, but not us.  We gave our plans some serious thought, and the next time we set off for a spring retreat, we made sure to a place that was sure to be a blast no matter what surprises we encountered.
If you are looking for that perfect spring getaway, a chance to get back to nature, enjoy some quality relaxation time, and just have some fun with your friends or family, consider a trip to Harpole's Heartland Lodge. We humans aren't the only ones who enjoy spring.  After a cold winter, you'll love exploring miles of trails – on horseback, ATV, or by foot AND watching nature come alive with wildflowers, birds and animals.
Fun things to do in Illinois
Looking for something you have never done before? How about going for a mushroom hunt in Mid-April through Mid-May (weather may impact when mushrooms pop up). It's fun, good exercise and allows you to discover the great outdoors while collecting a delicious delicacy.
For my husband and me, any getaway requires a good meal and some great evening activities.  After all, with the weather finally starting to change and the sun staying out a bit longer, why not enjoy everything your weekend has to offer?  When you stay at Harpole's Heartland Lodge, you do not just have access to beautiful accommodations and the opportunity to get back to nature, you are also treated to a gourmet, home cooked dinner and an amazing brunch.  After dinner, guests at Harpole's enjoy a scenic, sunset hayride and bonfire.  There is nothing better on a cool spring night then cuddling up by the fire and sharing a s'more.
Don't let this spring break pass you by!  Just because you aren't a kid anymore doesn't mean you can't enjoy some quality play time every now and again.
Nicole Palmisano
Spring Break Lodging Options >>
E-Mail Office@HeartlandLodge.com
Heartland Lodge Office Number-   217-734-2526
Last Updated: May 10th, 2023