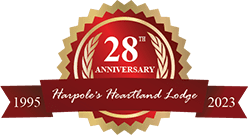 Morel Mushroom Time! Places to Mushroom Hunt 2023
April 21st, 2023 Illinois Mushroom Hunting Update- "The yellow mushrooms are just starting to pop up in our area! The next few weeks should be prime mushroom hunting here at the lodge. With warmer weather and rain showers in the forecast, we expect to continue having a great mushroom season. Several guests have found nice gray mushrooms and a few yellows as well! Early in the mushroom season, Southern facing hillsides are usually the best bet for finding morels as the sun warms the soil temperatures. Later in the season, morels can be found on Northern hillsides and in the bottom of the ravines. Take advantage of our weekday lodging promotions or weekend last-minute deals here >> or call 217-734-2526 for more details!"
MUSHROOM HUNTER'S OVERNIGHT PACKAGE! All you need to do is book an overnight reservation with us to have access to over 1,200 acres of prime morel mushroom hunting ground! You can book one night and have two full days of mushroom hunting!! 10% off when you book Sun.-Thurs. Prices online already account for promotional weekday price. Reservations can be made for as low as $100 a night! Additional meal plans, activities such as horseback riding, ATV rentals, bonfire with smores, hayrides, sporting clays and much more can all be added as well! Bring your own ATV/UTV or rent one of ours to really cover some ground while you are here! UTV rental information here >>  Lodging options here >> Call today @ 217-734-2526 to make a reservation!
Morel Mushroom Hunting at Heartland Lodge
In West-Central Illinois, where Harpole's Heartland Lodge is located, morel mushrooms are certainly the mushrooms of choice.  And according to my insider information from the lodge (Gary, of course), we are expecting to have a bumper crop of mushrooms this season! All you have to do to hunt mushrooms at the lodge, which offers over 1,200 acres of prime morel mushroom hunting habitat, is book an overnight reservation!
Sign up to be the FIRST to know when the MUSHROOMS are popping up!
What Exactly is a Morel Mushroom?
According to Merriam-Webster, a morel is any of several edible fungi (genus Morchella, especially M. esculenta) having a conical cap with a highly pitted surface.  However, I'm thinking that most of the people who go morel mushroom hunting aren't really concerned about the dictionary definition – it appears that mushroom hunting is as much of a sport as anything.  And then there are those who enjoy the distinctive taste of their pick – the taste sometimes being described as nutty.  Morels are most normally cooked and eaten fresh, but they can be dried or frozen (but some of the texture and flavor are lost).
What Exactly Does a Morel Look Like?
The morel mushroom has a peaked cap, folded crevices, and is light beige in color – even though there are variations of the color including grays and yellows.  The stalk has a flesh-like feel and appearance and while there are true morel mushrooms – safe to eat – there are also 'false' morels that can be toxic.  The University of Illinois Extension has a great, simple explanation of the difference – check it out their Morel Mushroom Hunting Blog – it will help you in determining what you need to be looking for.  You could also buy a good mushroom guidebook – carry it with you – and go with an experienced mushroom hunter.  Remember, there are many wild mushrooms out there so be careful and know your 'shrooms – safety is key!
So, WHEN do you Find These Prized Delicacies?
The morel mushroom hunting season is short!  The month of April is when morel mushrooms begin to appear in Central Illinois, but the season can last through early May.  The morel hunting season is best after April showers have come and gone – when adequate rainfall has created moist soil conditions in the woods.  As far as temperatures go, there are some differences of opinion on the ideal temperatures – some prefer daytime temps of 60° F with temperatures at night staying in the 40's.  Others say that the nighttime temps should be at least 55° F while others prefer to wait until it is 60° F at night.  However, most enthusiasts will tell you that hot daytime temps (anything above 90° F) and dry conditions will put a quick stop to the growth of these mushrooms.
Now That You Know When to Mushroom Hunt, WHERE Do You Hunt?
The morel mushroom normally grows in wooded areas but can be found growing in a variety of places – including cracks of sidewalks!  But if you don't have them growing in your sidewalk, head to the woods!  Morels can be found near creeks but one of the more favorable locations is by dead elm trees.  Morels don't discriminate though – they can also be found near cottonwood, tulip poplar, ash and apple trees.  You will also need to look in undisturbed woods and the wooded edges of fields and river bottoms.  Walk slowly and watch where you step.  If you find one morel, look in the immediate vicinity for more – several morels may be in the same area if growing conditions are right. Southern facing hillsides with dead elm trees are a classic spot to find morels.
At the lodge, you'll have access to over 1,200 acres of mushroom hunting. When mushrooms are just starting to pop up, Southern exposures will typically be the first place to find them- near the top of the hillsides. As the season progresses, and soil temperatures continue to rise, focus more on the bottoms and along creek beds.
Morel Mushroom Hunting Tools of the Trade
As always, dress appropriately for your hike in the woods – sturdy shoes/boots with socks, long jeans, and a hat – are definites!  And don't forget your tick spray – from what I am hearing, the ticks are out in droves this year.  So…spray before you go and check yourself (and others) when you return from your hike.  Many people also use a walking stick, which serves two purposes.  You can use it to carefully move plant leaves and push back brush around tree bases, but it also saves from bending over to search spots – great back relief!
One thing I found interesting while researching for this blog – the type of bag or container you take with you can make a difference in the future of mushrooms and mushroom hunting.  Mesh bags are preferred over plastic ones to allow the spores to spread.
So You've Pulled Your Tools Together and Have Found That Cluster of Morels- Did You Know There was a Way to Pick Them Too?
The recommended method is to use a sharp knife to cut them off cleanly at the base.  The 'unspoken' custom is to harvest all but one or two mushrooms, leaving the smaller ones for wildlife and future mushroom hunters.  Morels can't be stored for very long so most hunters will eat them the same day they are picked – ensuring the best flavor.
One Very Important Thing to Keep in Mind When You Go Morel Mushroom Hunting- Avoid Trespassing!
Recent land development has decreased the mushrooming territory and many remaining stands of timber have been privatized.  Therefore, you should always get permission from landowners before hunting mushrooms on their property and if hunting on public land, check at a ranger station as some areas may be under protection.
However, if you are staying at Heartland Lodge, you already have permission to hunt more than 1,200 acres of prime mushroom hunting ground – all while enjoying the other amenities the lodge offers!
But mushroom season is near – and won't last long – so book your room now!  Whether you live in Illinois, Missouri or Iowa, come to the lodge and check out their mushroom season!  Whether you are a beginner or a seasoned 'shroomer, you won't regret it!  And grab your camera – take pictures of your day in the woods – you'll enjoy it even if you don't find any morels.
Expectations when Morel Mushroom Hunting
While we hope everyone goes home with a bag full of mushrooms, they call it mushroom "hunting" for a reason. Some will find the lucky jackpot of mushrooms and others will not. To keep from being disappointed we recommend you come with the mindset that you will enjoy the great outdoors, be able to relax and enjoy the wonderful accommodations. I have had many mushroom-less days; however, I have never not enjoyed meandering through the woods in the spring, listening to songbirds sing, pondering at the beautiful spring wildflowers, redbuds and dogwoods blooming. If you go home with some mushrooms, that's the cherry on top!
– Lori Biehl
Twenty-Plus-Year-in-a-Row-Guest
Quick Links
Last Updated: April 21st, 2023