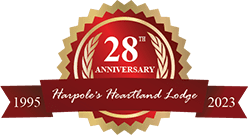 Glassing Summer Whitetails At Heartland Lodge
If you enjoy watching monster, velvet toting bucks in the summertime, Pike County, Illinois might just be the top destination throughout the Midwest! Heartland Lodge is located in the heart of prime whitetail country that supports some of the biggest deer in the nation. The fertile farmlands that surround the lodge help to supplement growing big racks that bring hunters from across the world to come and stay and hunt at our lodge.
If you are just coming in to stay for a few nights this summer and want to do some sightseeing, the last hour of light in the evening will be your best bet to spotting some of these beautiful bucks! Take any backroad around the lodge and you'll more than likely run across several deer feeding in the soybean or alfalfa fields close to the lodge. Don't forget your favorite beverage and camera!
-Zach Jumps
If you are interested in a deer hunt with us this fall, send me an email Zach@HeartlandLodge.com.
View More Pics In Our Trail Cam Photo Gallery>>
Last Updated: August 9th, 2022