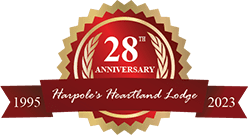 Romantic Basket for Couples
Create that spark in your relationship with our Romantic Basket- perfect for your next couple's getaway at the lodge! You can reserve one to be in your suite upon arrival to surprise your significant other or enjoy one on our Romantic Horseback Ride or Romantic Sunset River Cruise!
The romantic basket includes two wine glasses for enjoying our sparkling juice, fresh fruit, cheese and a sweet treat! (basket not included. Romantic horseback basket does not include souvenir wine glasses.) This special package is available by advance reservation only. Romantic basket cost $60. (Rate is already included in the romantic horseback ride and sunset river cruise packages)
To reserve a romantic basket on your next getaway, please give us a call at 217-734-2526 today!
Romantic Couple's Getaways- Voted #1 Most Romantic Destination in Illinois!
Last Updated: July 26th, 2022