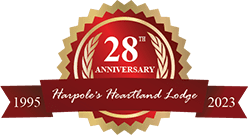 Nauvoo, Illinois – Experience Life as a Pioneer!
You and your family have just spent some time at Harpole's Heartland Lodge – relaxing and enjoying the peace and quiet of the beautiful country setting – along with the incredible meals and comfy beds.  You may have even taken some of the day trips that I've written about in earlier blogs.  Sadly, you have checked out of the lodge and are headed home to your real world.  If you're like us, you're not quite finished with your vacation yet – we always try to find something to do on our way home to extend our time just a little bit longer.  If you live North of Nebo (where the lodge is located) or Quincy, Illinois – a great place to stop would be Nauvoo, Illinois. This can also be a great day trip from the lodge but leave early because there is plenty to see and do!  So, grab the GPS (or in my case, the map) – and follow IL 96 north, jog past Quincy, and then pick up IL 96 into Nauvoo.
Now, I will admit that it's been many years since I have visited Nauvoo and I have probably only been there once – a real shame considering I grew up in Central Illinois.  But while researching Nauvoo for this blog, my interest in visiting this historic little town has certainly peaked.  Nauvoo is located in Hancock County in Western Illinois and has been called "The Williamsburg of the Midwest."  Nauvoo means "to be beautiful" in Hebrew and you will certainly find beauty in this charming city which is located on one of the widest parts of the "Mighty Mississippi" River.  The city and surrounding area are listed as a National Historic Landmark District on the National Register of Historic Places.
Even though much of the history linked to Nauvoo rests with Joseph Smith, Jr. and the Mormons, the area was also settled by Native Americans and Germans and underwent a couple of name changes – as well as ownership – by 1840.  Believe it or not, Nauvoo has also been known as Quashquema, Venus and Commerce – interesting!  And it was actually Smith who renamed the small town in April 1840.  Find more information on the extensive Nauvoo history by going to www.beautifulnauvoo.com.
Probably one of the most famous buildings in Nauvoo would be the Nauvoo Temple, dedicated on June 27, 2002.  Even though the temple is now closed to visitors – you must have a 'temple recommend' to enter the temple – it would still be an amazing building to view.  However, you can view pictures of the construction of the temple on their web site.
Nauvoo is also home to over 60 historic sites, buildings homes and museums.  With this many options, a great place to start your visit would be the Historic Nauvoo Visitors' Center.  Even though all of the attractions (sites, tours, shows and rides) in Nauvoo are FREE of charge (perfect for families), tickets are required for some of the activities, and they can be picked up here.  You can also view a couple of introductory videos, view historic artifacts and displays, and pick up information on more than two dozen restored homes, shop and religious buildings.
The Visitors' Center is also the location of the Monument to Women Memorial Garden.  This two-acre garden of sculptures is dedicated to women of the past, present and future.  One central sculpture of a woman is surrounded by twelve life-sized figures expressing women's roles in society and each statue is marked by its own title and inscription.  This memorial may also be the largest commissioned sculpture display in the world dedicated to women – how awesome for it to be in the Midwest!  This is at the top of my list of things to see on my next visit.
Once you have finished your stop at the Visitors' Center, check out the beautifully restored homes and businesses.  As there are so many to choose from, check out the possibilities at www.historicnauvoo.net.  Some of my intended home stops are going to be the Joseph Smith Historic Site
Many of the homes and businesses in Nauvoo were originally built using brick – brick was a symbol of beauty and permanence.  Therefore, no visit would be to Nauvoo would be complete without visiting the Brickyard.  Here the Brickmaster will show how bricks were formed, dried and baked.  Don't forget your souvenir – a Nauvoo brick of your very own to help you remember your visit.
Just as there are many homes to visit, there is also a nice selection of business to choose from.  Again, the possibilities available to you can be found at www.historicnauvoo.net but a few on my to-see list are the Riser Boot Shop, Scovil Bakery, Stoddard Tin Shop and the Lyon Drug and Variety Store.  It will also be interesting to visit the Browning Home and Gunsmith Shop – where the inventor of one of the first repeating rifles lived and worked.
And no trip to Nauvoo would be complete with a stop at the Carthage Jail Visitors' Center – the site where Joseph Smith and his brother, Hyrum, were murdered on June 27, 1944.  Carthage is just southeast of Nauvoo and could be the first or last stop of your day of exploration.
You will learn as you read my blogs that I always recommend taking a camera to preserve those family moments – either while staying at the lodge – or taking a day trip.  And this time is no exception.  I am really excited about my next trip to Nauvoo, and I will, of course, have my cameras with me.  Enjoy your day!
Lori Biehl
Twenty-Plus-Year-in-a-Row-Guest
Last Updated: July 25th, 2023