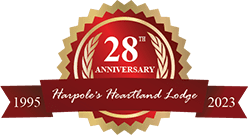 Jane Lynch Films I.L. Tourism Campaign at Heartland Lodge
PRESS RELEASE


For Immediate Release
Harpole's Heartland Lodge selected to represent Illinois in their national tourism ad campaign- "Illinois the Middle of Everything". 
Nebo, IL (June 2023)— Harpole's Heartland Lodge, located in Pike County, Illinois was selected as a filming location in the state of Illinois national tourism campaign, a $30 million ad campaign promoting Illinois unique tourism destinations across the state. This ad campaign will be marketed nationally through multiple outlets, including cable TV networks, to help boost tourism across the state of Illinois.
A production team of over 50 people took over the lodge to film the commercial. Jane Lynch can be seen at Heartland's Original Lodge in front of the Great Room's Fireplace playing guitar. Jane, who is an Illinois native, has had a very successful career in Hollywood- winning a Golden Globe and Emmy Award.
"We're excited to be a part of the "Middle of Everything" campaign and to promote the beauty and diversity of West-Central Illinois. With our intricate lodging options, several on-site activities, recreation opportunities and local attractions create an unapparelled experience unlike anywhere else in the Midwest that attracts guests from across the globe to enjoy year-round! We expect this ad campaign to boost local tourism within the community as outdoor recreation tourism continues to grow in popularity." -Gary Harpole, Heartland's owner.
https://www.youtube.com/watch?app=desktop&v=L-FlStyEzyc
For more information on Where Jane Lynch Filmed the Commercial, Click Here >>
---
About Harpole's Heartland Lodge:
Heartland Lodge is located in the rolling hills West-Central Illinois. Our resort offers horseback trail riding, ATV/UTV riding on 1,400 acres and 60+ miles of trails, UTV half and full day rentals, sporting clays course, multiple fishing ponds, premium upland/ deer/ turkey/ waterfowl hunting packages and several other activities! Guests are welcome to bring their own side by side, dirt bike or ATV as well! Heartland has individual suites, private luxury cabins and multiple lodges with several rooms for larger groups. Bring the entire family and friends, host your wedding or corporate retreat, family reunions and more! Our lodge is the only Orvis and Shooting Sportsman endorsed lodge in the state of Illinois!
Visit HeartlandLodge.com or give us a call at 217-734-2526 for more information!
Quick Links
Full List of Activities & Amenities >>
Corporate Retreats/ Conference Center Information >>
Whitetail, Upland, Waterfowl & Turkey Hunting Packages >>
Last Updated: June 19th, 2023